Nespresso no longer has a monopoly on those colorful pods it sells for its fancy coffee machines.
Nestlé, which owns Nespresso, reached an agreement with France's antitrust authorities (paywall) to extend the guarantee on its single-serving coffee machines to customers who use pods other than its own, branded ones. As part of the deal, Nespresso will also remove the warning on its capsules and machines that claims only its own pods should be used with its coffee machines. Since, as it turns out, that's not quite true.
"It appears that Nespresso may have abused its dominant position by tying the purchase of its capsules to that of its coffee machines, with no fair justification, de facto ousting rival capsule makers," the French antitrust watchdog Autorite de la Concurrence said in a statement.
The French market is Nespresso's most important one. Europe has become increasingly enamored with the single-serve coffee pods—Western Europe, in particular, which now purchases more coffee pod machines than drip machines.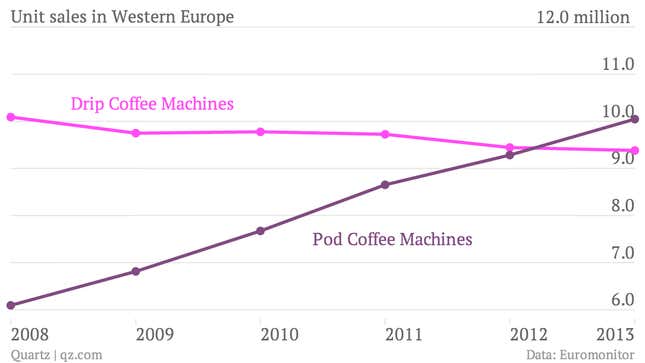 But no country loves them quite like France. A quarter of Nespresso's global sales come from the country, according to the competition authority—a hefty number considering the staggering amount of business the coffee pod-maker rakes in each year. Nespresso controls more than three quarters of France's espresso-pod machine business.
The company has found itself embroiled in a spate of legal disputes relating to its clever (if perhaps bullying) approach to protecting its business. Last year it tried to block the sale of rival capsules in the UK. It waged a similar war on competitors' pod offerings in Germany in 2012, and then again in 2013. It also battled with its coffee pod enemies in Switzerland, as well as in France, Belgium, and the Netherlands.
The thing is, Nestlé has lost in just about every one of those conflicts. The company competes with over 100 portioned coffee offerings today, PR manager Diane Duperret told Beverage Daily last year. Each time it has tried to stop one of them from selling similar, often cheaper, versions of its coffee pods, it has been forced to retreat.
This latest lost war in France is akin to the company waving its white flag, and accepting that rather than forcing customers to use its pods, it will have to convince them to choose Nespresso over an increasing pool of competitors. Duperret told the Wall Street Journal today that while the deal doesn't mean Nestlé agrees with the ruling, it signifies the company's willingness to cooperate, and to "bring this matter to a close."
Essentially, Nespresso is fighting, and losing, the fight that the coffee pod maker Keurig has fought elsewhere, against the unlicensed pod makers that have swooped in and stolen a bit of its lucrative "K-Cup" business. Keurig's response has been to dangle the idea of making it logistically more difficult to fashion coffee pods that are compatible with its machines. But while that approach, called "digital rights management," might seem attractive, it's likely only a short-term fix. Ultimately, making the machine isn't enough to ensure exclusive use of it. "If this thing goes to market, probably within a day people will have figured out how to break it," said Mitch Stoltz, a staff attorney with the Electronic Frontier Foundation, told Ars Technica last month. "They will take it as a challenge."