The rising cost of food is eating into the bottom line at Chipotle Mexican Grill.
The Mexican restaurant chain still impressed investors Tuesday, as revenues surged 24.4% to $904.2 million during the first quarter. But profit growth wasn't as punchy. Net income at the one-time McDonald's unit (McDonald's spun off Chipotle as a separate company back in 2006) rose 8.5% to $83.1 million. And you can see that the sizzling profit growth that Chipotle has seen in recent years has cooled off a bit. (Though that's to be expected as the size of its profits rise.) The company, which emphasizes its use of high-quality sustainable ingredients, blamed rising costs for meat, cheese and avocados for declining profit growth. Food costs rose 1.50 percentage points to 35% of revenues during the quarter, the company said.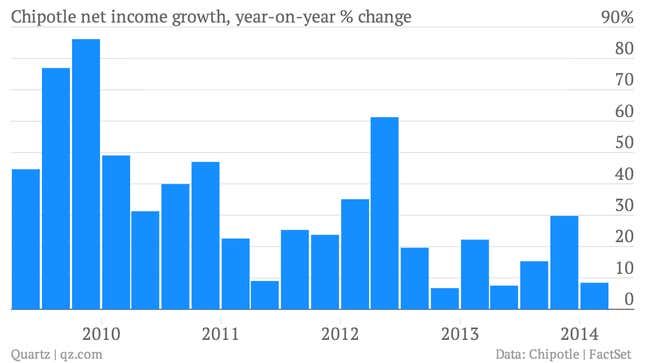 And that's precisely why the burrito behemoth is considering raising prices later this year. In January, company officials said "we believe a menu price increase is likely, sometime during the third quarter." (Though they also stressed that the decision wasn't final.) But with little sign that a drought in California's agricultural region is abating any time soon, there's not much reason to expect these food prices to decline much either. So don't be surprised to see a more expensive Chipotle burrito in the future.