So, new home sales in the US tanked in March, falling 13.3% year-over-year—the ugliest number since April 2011. That's a bit jarring to see after a couple years of steady recovery.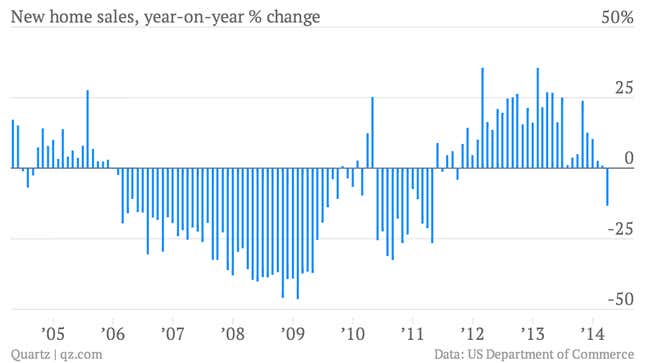 What gives? Well, you know, there was the very cold winter. And mortgage rates are higher than they used to be, thanks to the Fed's decision to scale backc its bond-buying programs, which have been keeping interest rates low.
But here's what's weird. Even though the sales numbers are not great at all, prices of new homes are still rising sharply. In fact, they hit an all-time high in March, when the median price of a new home was $290,000. That's 10.4% higher than the pre-crisis peak set in March 2007. And the 11.2% price jump between February and March was the highest on record.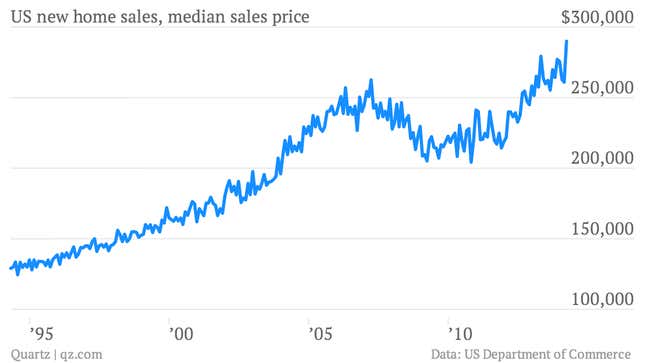 What's going on? If sales are low, shouldn't prices be declining, not rising? Maybe not. Sales could also be low because there aren't enough houses to buy. JPMorgan Chase economists note that while housing inventory has been drifting higher, it remains pretty low by historical standards, so if demand is rising, that could push prices up.
But there's also a shift in the mix of new houses getting sold: Expensive homes are rising as a share of the total. Morgan Stanley economists note:
But most of the outsized March gain [in prices] reflected a mix shift towards higher priced units.  New homes priced between $150,000 and $299,000 made up 47% of March sales, down from 57% in February, and homes priced between $300,000 and $499,000 made up 39% of March sales, up from 30% in February. 
In other words, this is, in part, an inequality story.