"The internet is creating a global community," a thought leader probably said recently. But take a closer look at internet traffic data, and the theory that the web is turning the world into a borderless digital utopia doesn't hold up.
There's no question that internet traffic in general is skyrocketing. One hundred hours of video is uploaded to YouTube every minute. Facebook recently announced that it would upgrade its data warehouse to a capacity of 300 petabytes. (One petabyte is enough to store over 1 million HD movies.)
And more of this data crosses borders than ever before. Global flows in a digital age, a report released yesterday by McKinsey Global Institute, attempts to quantify the circulation of three major types of "flows": financial, human, and digital. Using data from TeleGeography, McKinsey estimates that the total transfer of data across borders has increased 20-fold from 2005 to 2012, from 2.2 trillion megabytes per second to over 41 trillion.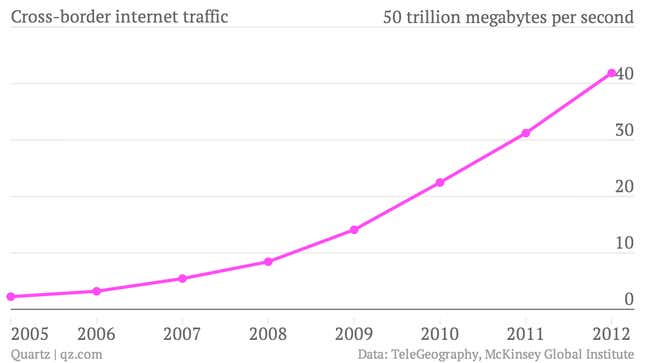 This is a dramatic rise, no doubt, but a little context makes it clear that data flow—or the growth of that flow—is not inherently international. In fact, cross-border web traffic has barely kept up with the sum total of internet activity. The vast majority of digital transactions are still domestic.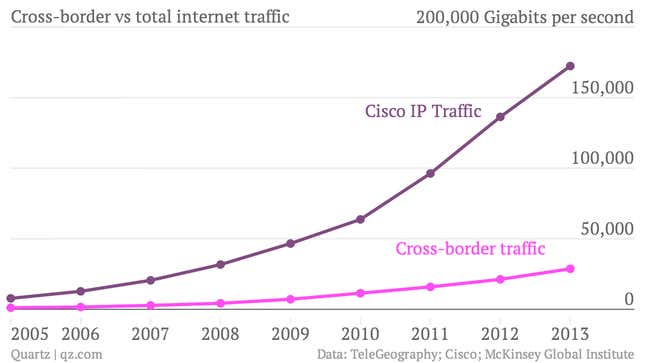 The rise of cross-border activity is simply a function of the digitization of everything. Basically, "lots more data" also means "lots more cross-border data."
"Data underlie all other flows," says Susan Lund, one of the report's authors and a partner at McKinsey. Whether domestic or intercontinental, transfers of physical goods, cash, messages, services—the list goes on—are becoming rearrangements of 1s and 0s.
For the most part, global web transfers are just digital versions of transactions that were already happening. In many ways, data is still more protected than finance, the original globetrotting medium. China, for example, belongs to the WTO but is partially cut off from the global internet community. One-third of all financial flows cross a border, according to McKinsey, compared with only 17% of data flow.