If you're an exceptional athlete and want to turn your talent into cash, consider moving to New York, Manchester or London.
For the second year in a row, Manchester City of the English Premier League pays the highest annual salaries in world sport, shelling out an average of $8.1 million per football (in the British sense) player, according to the latest edition of the global sport salaries survey, compiled by Sporting Intelligence. Previously a medium-sized club that had fallen on hard times, City has been transformed into a financial powerhouse after a takeover by Abu Dhabi's Sheikh Mansour in 2008. City's more famous neighbor, Manchester United, also pays its stars well, and has risen four places to eighth in the survey, making what was formerly a sooty industrial town in England's north-west into a goldmine for superstar footballers.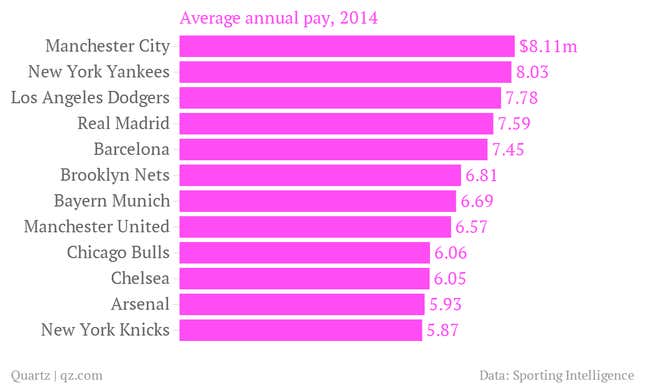 New York is the sole destination in the top 20 for 2014 to be represented by three teams and by two sports. In second place are the New York Yankees, a perennial big-spender, while the Brooklyn Nets, a recipient of heavy investment from Russia's Mikhail Prokhorov, are sixth, paying an average of $6.8 million. The Knicks are 12th, paying $5.9 million.
The third hotspot is London, as represented by the football teams Chelsea and Arsenal, who are 10th and 11th, respectively. The remainder of the top 20 for 2014 comprises the biggest European soccer teams (Real Madrid, Barcelona, Bayern Munich, Juventus).
In American sports, the only teams in the top-20 were in basketball and baseball. By contrast, the highest-paying team in the US National Hockey League, the Chicago Blackhawks, are ranked 76th, and the highest paying team in American football, the Minnesota Vikings, are all the way down at 115.
A five-year average shows the extent to which Sheikh Mansour's billions have built Manchester City—the team's average wage has risen by a preposterous 265% in that time. Salary growth among the other 19 of the top 20 clubs over that period stood at 25%. It also demonstrates the extent to which the US National Basketball League and Major League Baseball are catching up with the internationally beloved game known in most of the world as "football." Five of the top six best-paying teams over 2010-14 play football, compared with only three in 2014.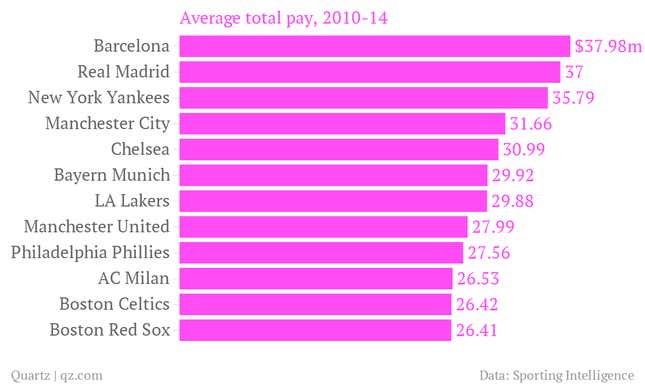 If none of those cities take your fancy, take a leaf out of David Beckham's book and consider Paris. Its principal soccer team, Paris Saint-Germain, was bought by the Qatar Investment Authority in 2011, and has since been on a worldwide spending spree. It is sure to be a mainstay of the salaries survey by the end of the decade.