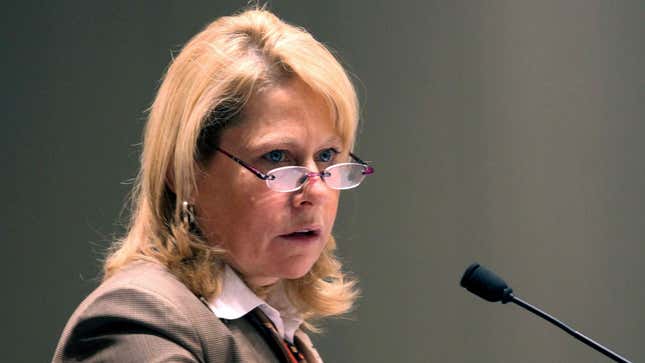 Cynthia Carroll, chief executive of the mining firm Anglo American, will step down after nearly six years on the job, and there are some perfectly good reasons why she should go.
Investors have lost faith in her leadership for increasing exposure to South Africa's troubled mining industry; for an S&P outlook downgrade from stable to negative this month; and for a sharp drop in share price that has left the global mining giant £10 billion poorer (paywall), or worth 25% less in market capitalization, since Carroll took over in 2007.
But her departure is bad news for female executives everywhere, whose place is still less than secure. Carroll's exit leaves just two women running FTSE 100 companies, Imperial Tobacco's Alison Cooper and Burberry's Angela Ahrendts. The situation is not dramatically different in the US where only eight women run S&P 100 companies.
Yet studies show the picture ought to be different. New research out this week on women in various business sectors of the Fortune 1000 (from the University of Denver's Tiffani Lennon and the White House Project) turns up two surprising statistics.
First, while women in the US received an estimated 11% of the available venture capital, they run 20% of those entrepreneurial ventures with the highest gross profits. And second, the net income of companies with female board members increased 14% on average over the past six years, compared to 10% for companies without women on their boards.
You might ask: is this causation or correlation? Does having more women on the board really make companies more profitable? Or is it that companies with cultures that make them more profitable are culturally more likely to have women on their boards? Lennon says, indeed, that companies with women on their boards tend to be those that are more competitive, progressive, and entrepreneurial. But companies with female board members don't seem to be more common in any one industry, she says. And in any case, technology companies, which tend to have the most progressive cultures, were stripped out of the results, so as not to skew the numbers.
Some technology-company research out earlier this year also showed that women are key to company success:
Small teams performed better if they included at least one woman, while teams of three with one woman outperformed all others.
Yet another study from Harvard Business Review, called Women do it Better than Men, looked at data from 360 degree style reviews, meaning by bosses, peers, and underlings, of more than 7,000 leaders. The data revealed that women outperformed men in 12 of 16 categories associated with great leaders. Examples included "displays high integrity and honesty", "drives for results", "builds relationships", "innovates", and "champions change". The only area where men outperformed women by 2 percentage points related to "develops strategic perspective". Perhaps they should use that strategic perspective to hire more women.