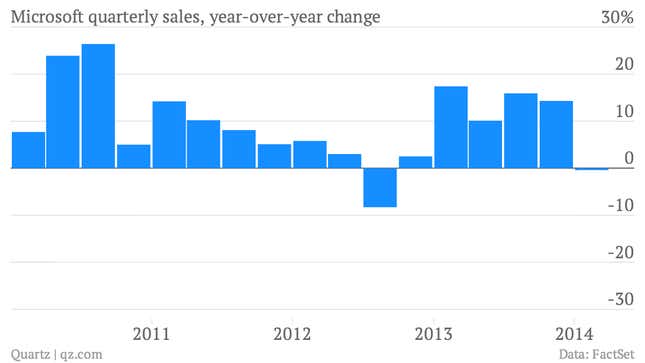 The numbers: Not as bad as feared. Sales declined 0.4% to $20.40 billion. Profits fell 6.5% to $5.66 billion. But the numbers were better than Wall Street analysts expected. The shares rallied after hours.
The takeaway:  The company's recent strong growth in business software sales held up. Commercial sales rose 7% to $12.23 billion. And Microsoft's consumer businesses—which includes software for retail PCs and its Xbox video consoles—were better than expected. Sales in those units rose 12% to $8.3 billion.
What's interesting: This is the first earnings report for Microsoft's freshly minted CEO Satya Nadella, who is expected to make an appearance on the conference call. That's a big shift from Nadella's predecessor Steve Ballmer who long shunned the calls.