Pandora Media shares are getting hit hard this morning (they're down about 15% currently) after it released mixed results overnight. Earnings and revenue for the first quarter were better than expected, but the outlook for the current quarter underwhelmed. Here's what we found interesting.
More listening, but fewer users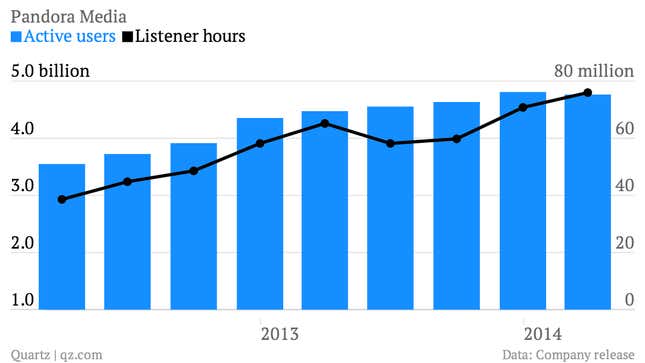 Active listeners fell to 75.3 million from 76.2 million at the end of 2013, a worrying sign. But total listener hours were up 12% to a new high of 4.8 billion during the quarter. People who like the service seem to really like it.
Revenue is growing, but so are content costs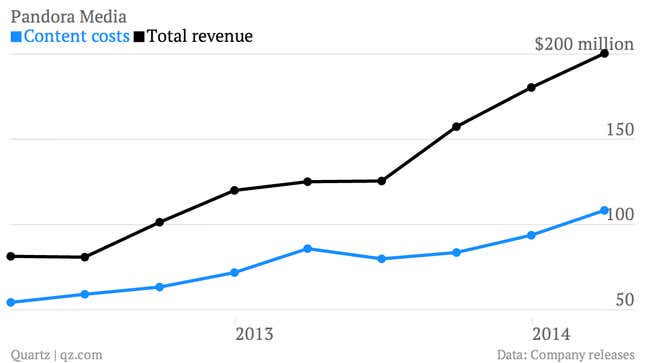 Earlier this week, we took a deep dive into the simmering tensions between Pandora and the music industry over publishing royalties. While Pandora received a favorable court ruling on royalties during the quarter, its content costs still went up by 16%, and it has now been hit with another lawsuit over songs recorded before 1972. A bit like Netflix, it was forced to raise prices modestly for its subscription-based product to pay for content.
Pandora is also a mobile story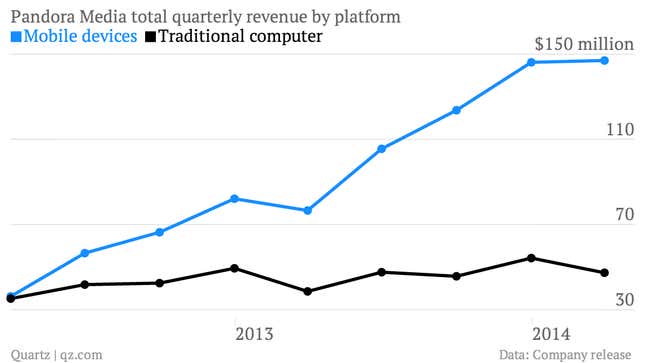 In 2012, Pandora made about as much from traditional desktop computers as it did from mobile and other connected devices. Now it makes about three times as much from mobile. The removal last year of a cap on listening hours on mobile devices for its fee-free, ad-supported product has no doubt helped. This is a huge positive: one that could keep investors who are looking for a way to exploit society's growing dependence on mobile devices interested in the company.