Sprint launched its "framily" advertising campaign at the beginning of the year, but almost nobody understands what is going on in one of its latest television commercials.
The third placed US wireless carrier, Sprint is majority owned by Japan's Softbank (which wants to buy fourth placed T-Mobile)—and lost another 333,000 contract customers during the first quarter.
It would be unfair to blame that directly on the mystifying hamster-themed framily ad, because the ad only came out in the last week of March. And it's worth noting that Sprint shares are surging (up about 9% today) after its announcement that Q1 losses shrunk to $151 million from $643 million a year earlier.
Still, it's still difficult to avoid the impression that Sprint is losing ground to its US rivals amid a fierce price war kicked off by T-Mobile.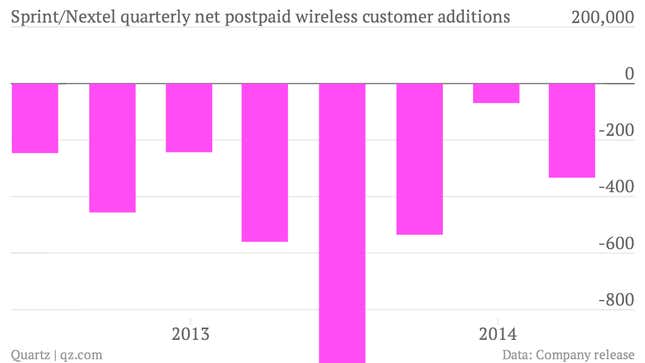 On an earnings call this morning, US time, Sprint executives said the firm's new framily packages—which allow up to 10 family members and friends to band together to get lower rates— are its fastest growing rate plans on record. Sprint said the packages hit the 1 million customer mark in less than 40 days, and that its framily ads logged more than 2.4 million online video views within three days of launch.
In telecom, family plans have typically been used as "churn reduction" tools—it's harder for consumers to end relationshipa with a company that provides them with multiple services, or includes multiple people on the same bill. Sprint's packages permit bill splitting and do seem designed as tools to actually win customers. But Sprint shed customers during Q1, while both Verizon and AT&T (which has also cut prices in response to T-Mobile's aggression) added subscribers. T-Mobile reports its earnings on Thursday.
"Our real platform for growth and from a marketing perspective is Framily," said Sprint's CEO Daniel Hesse on the earnings call. "Framily has a lot of legs and I think today will be the beginning of what you'll be seeing, moving forward in terms of what we're able to do to leverage framily really as an innovation marketing platform."