Wall Street analysts are expecting a good report tomorrow at 8:30am, when US Bureau of Labor Statistics will spit out its latest estimates of how the job market looks. The current consensus wisdom is that the American economic machine produced 210,000 new jobs during April. It's true that the margin of error on the data is pretty large at 100,000. (That means that a report of 210,000 new jobs could mean anything between 110,000 and 310,000 were actually created.) Here's a quick recap of why analysts are expecting a good number.
Initial jobless claims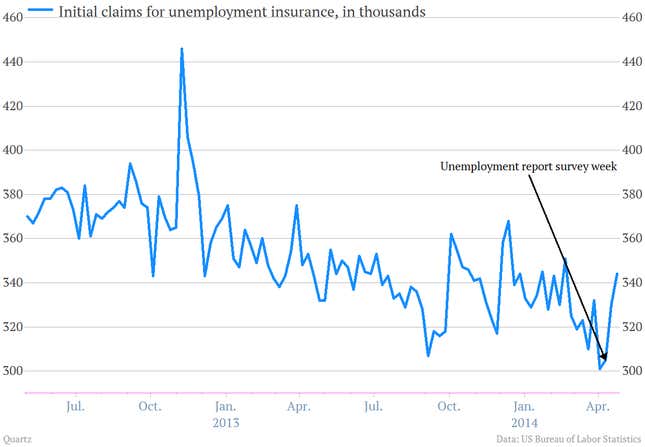 The weekly reading on new claims for unemployment benefit hit some of its lowest levels of the post-crisis period in recent weeks. Some of that was just noise, as seasonal adjustment issues with the Easter holiday made it look lower than it actually was. But some of it was actual improvement. (During the week that the jobs report survey was conducted the new claims were an especially low 305,000.)
Manufacturing employment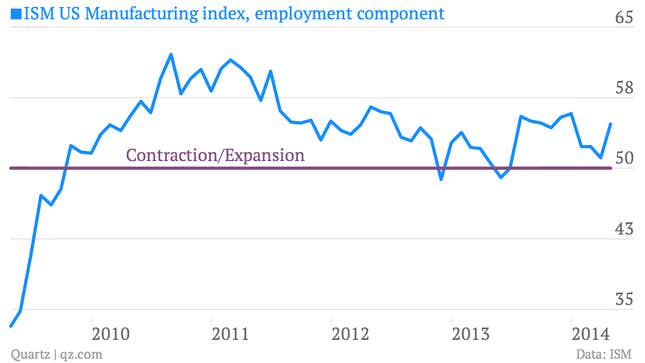 The employment component of the Institute for Supply Management's survey of US manufacturers showed hiring was ramping up in April. While manufacturing accounts for a relatively small share of US jobs, the sector is pretty responsive to changes in economic conditions which makes it a decent bellwether.
Private sector strength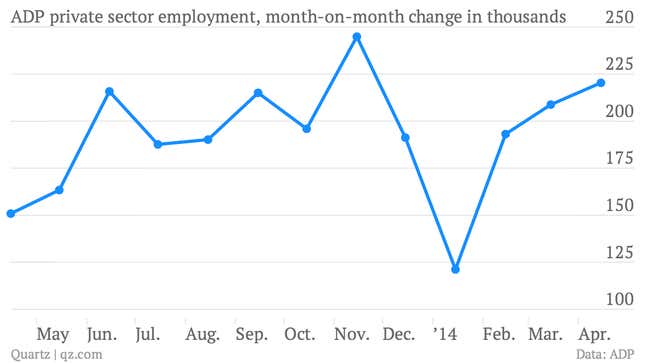 Payroll-service company ADP's monthly reading on private-sector job creation suggests private companies added 220,000 people to the payroll in April. This number can be way off. But directionally it can be a good signal of where the job market is going. So a strong reading is positive.
Online job ads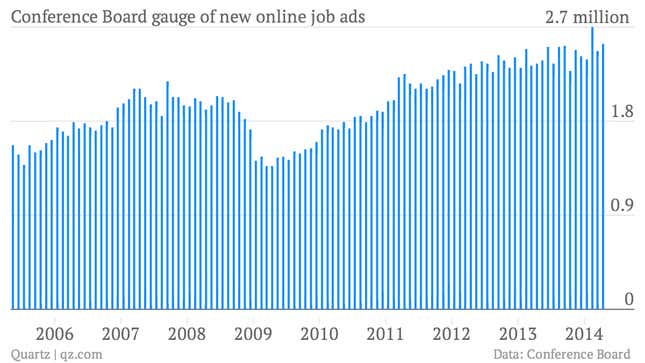 The improving trend for the volume of help-wanted ads online remains in place.
Small business softness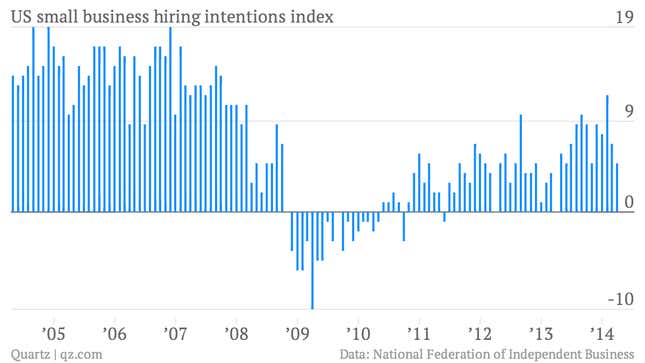 Another  piece of economic data is a bit less encouraging: The index of small business hiring plans by small-business lobby group NFIB slipped in March. We wouldn't worry too much about that. But it's something to keep an eye on. 
Jobs differential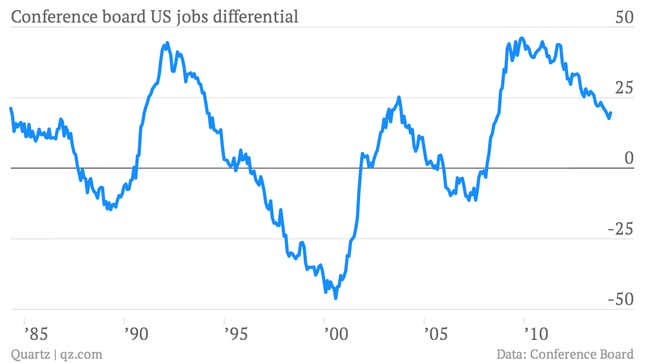 The jobs differential is basically the difference between the number of people who said jobs were "hard to get" and those who said jobs were "plentiful" in a monthly survey by the Conference Board. It's considered a pretty good indicator of the job market's health. The reading has been falling—a good sign—pretty steadily for months, and in February it dropped below 20 for the first time since the collapse of Lehman brothers in 2008.
A first look at March showed it rising. That was subsequently revised away, but the April reading also ticked up a bit. From a big picture perspective, it's clear that we're still a long way from worst moments of the recession, but Americans still feel jobs are about as hard to get as during the worst of the "jobless expansion" of the early 2000s.