Men armed with knives slashed passengers in a crowded railway station in Guangzhou, southern China, on May 6, the latest in a string of attacks in China that have injured more than 250 people and killed over three dozen since last October, when a car rammed pedestrians then caught on fire in Tiananmen Square. Six people were injured in the Guangzhou attack, state news wire Xinhua reports, four of them with injuries that are "not life-threatening." One of the injured was a Western man in his 50s, the AFP reported.
China has experienced frequent incidents of terrorism and ethnic violence in recent years—including many knife attacks—but until recently they have been mostly confined to the northwestern Xinjiang region, home to the country's Uighur ethnic minority. Guangzhou, the country's third-largest city after Beijing and Shanghai, is a manufacturing hub and port on the south coast, near Hong Kong and far from China's restive western regions. It has not had an incident of terrorism or ethnic-related violence in a decade.
Some terrorism experts believe China's economic growth means it has displaced the US as the lead target for jihadist propaganda.
Guangzhou police said that they had shot and detained one suspect who was carrying a knife, Xinhua said. Pictures from Weibo showed huge crowds at the scene: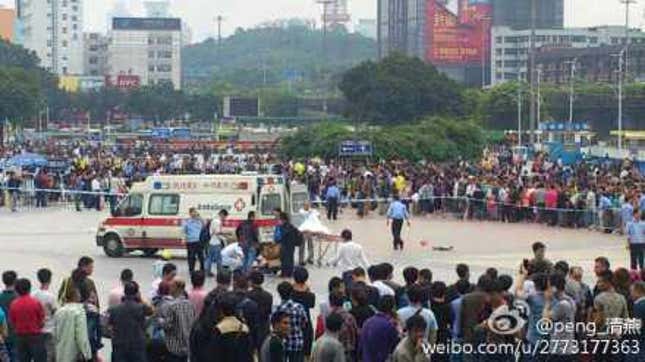 Witnesses said the man police stopped was short and "wearing a little white hat," the AFP and other reports said, which could indicate he was wearing a Muslim skullcap.
Neither police nor the Chinese authorities had identified the Guangzhou incident as a terrorist attack five hours after it happened. But it comes less than a week after what is believed to be one of China's first suicide bombings, when two men detonated a massive explosion in the railway station of Urumqi, capital of Xinjiang region. Three were killed and 79 injured. Police identified a Uighur man as a suspect in that attack.

On March 1, a group armed with knives killed more than two dozen people in a coordinated attacked on Kunming train station, which is also thousands of miles from Xinjiang in the south.

Passengers arriving on a train from Kunming were among the victims of the latest attack in Guangzhou, the People's Daily reported. One unlucky man was a bystander to both attacks, the Southern Metropolis Daily reported. The man, named Yang, ran when he saw the men with knives approaching in the latest attack, the paper reported, and was still sitting dazed in the railway plaza hours later.