The markets might be too bearish about YY Inc, a platform for gaming and live-streamed music performances. The company's shares slid today (May 6), the day after the Nasdaq-listed firm reported better-than-expected earnings. But YY seems to get an important trend emerging among China's millions of internet users: They want more and more online video, and especially live music performances and karaoke.
YY's sales from its music platform were up 14% on the quarter and 228% for the year, to reach 383 million yuan ($61.6 million). Its user base has grown to over 92 million monthly active users and its site has more than 1 million channels.
As we've reported, online video streaming is huge in China. Chinese viewership of online video is already among the biggest in the world, about 450 million regular video viewers—most of the country's population of internet users. Internet giants including Baidu, Rakuten (paywall), and Alibaba, the e-commerce giant that just filed for an IPO, have all invested billions of dollars to get a piece of the pie.
On YY, viewers can watch live channels of performers, usually amateurs singing song covers in front of a webcam. One fan favorite is a 26-year-old woman in Sichuan province who lives with her parents and goes by the stage name Poison—she's so popular that YY mentioned her in its IPO prospectus (p. 137). Viewers pay to give the performers virtual gifts and YY shares the revenue with them.
There's a strong appetite for a platform for amateur musical performers, and YouTube, which serves that role elsewhere, is blocked in China. According to a 2012 study by the Data Center of China Internet and commissioned by YY, the market for karaoke and live music performance online in 10 major Chinese cities is worth about worth about $8.6 billion (p.3). Oher internet firms like Tencent and Sina have also invested in their own live karaoke platforms.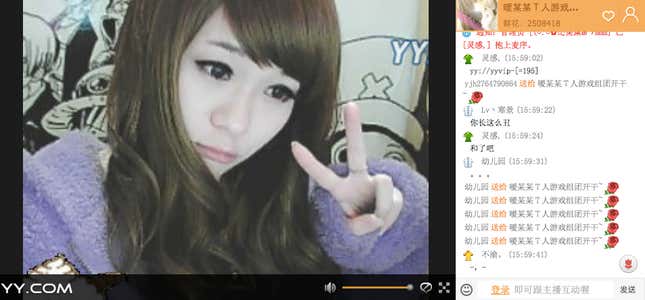 The trend is in part the outgrowth of the boom in singing competitions in the country. But one danger for YY and possibly its peers as well is that it is also capitalizing on demand for pornography, the only other example of popular live broadcasts in China. YY says it blocks such content.
Most viewers on YY are single males in second and third-tier cities who leave comments for female performers or "hostesses" and splurge on virtual gifts for them. One man told the New York Times he had spent more than $15,000 last year on such gifts. According to YY's earnings call on May 6, 5% of its paying users account for 70% of total music revenues—or almost $900 each.
So far YY hasn't been caught up in the government's recent crackdown on explicit online material, but it may just be a matter of time. YY CEO David Xueling told investors, "We have been in constant communications with government relevant agencies…So far we have never been inquired or asked for any inappropriate content at this moment."