German luxury carmaker BMW reported new sales and profit records in its latest quarterly results, thanks to the steady rollout of well-received new models. One of its highest-profile investments—a new line of electric-powered vehicles—generated only 2,000 unit sales, out of nearly 430,000 BMW-branded cars delivered during the quarter, but analysts are watching the BMWi series very closely. Some consider it the strongest competition yet for Tesla, the electric vehicle market leader.
BMW recently upped its production target for the i3 due to higher-than-expected demand. The $41,350 city car, launched late last year in Europe, has a range of around 100 miles on a full charge, or nearly 200 with an optional gas-powered "range extender." The i8 (pictured above) goes on sale next month, with a hefty $135,700 price tag. The sports car will travel only 20-odd miles on electric power alone, and a bit more than 300 using its hybrid engine. Gull-wing doors, 357-horsepower, and headlights that literally shoot lasers round out the package.
Stuck in the middle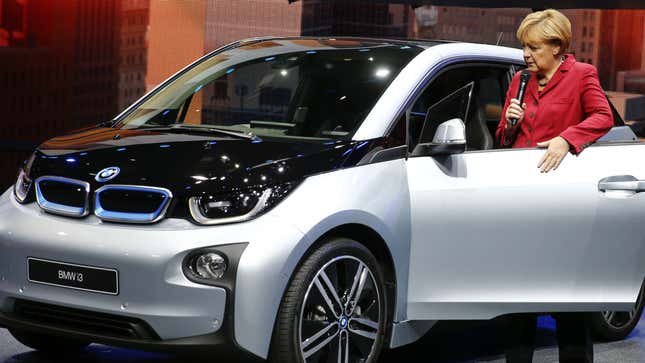 If you think that neither of these models sounds much like the Tesla Model S, you'd be right. The BMW i3 costs half as much, and travels only half as far on a single charge. The i8 costs twice as much and isn't electric-only, but boasts more power and high-end supercar features.
At business schools, what BMW is doing to Tesla is known as the "sandwich strategy"—squeezing the competition by offering products pitched both above and below a rival's offering. A new research note from analysts at Barclays fleshes out this theory, noting that surveys show that most common car brands buyers replace with Teslas are, in order, Toyota, Mercedes, and—yes—BMW.
The Barclays analysts reckon that BMW's i-series can pick off both Prius partisans and German sedan fans:
The Tesla Model S appeals to both Prius drivers as well as prestige and performance-oriented buyer; its nearest comps are Porsches and Aston Martins. At the same time, the i8 also may appeal to that flashier driver who wants a car the valet will leave parked in front of the high-end restaurant (an important criteria, in our view, in Southern California). The BMW i3 buyer is likely more of a Prius graduate, a bit more motivated by green concerns than by what car the valet chooses to leave in front of the car park stand.
Barclays forecasts that BMW will sell up to a third as many electric vehicles as Tesla in the next few years. The i-series will account for less than 2% of BMW's overall shipments and a vanishingly small share of its overall profit over this period. But the deep-pocketed German firm dabbling in Tesla's market represents a risk, at the margin, to the American electric-vehicle maker's richly valued shares.
Collision course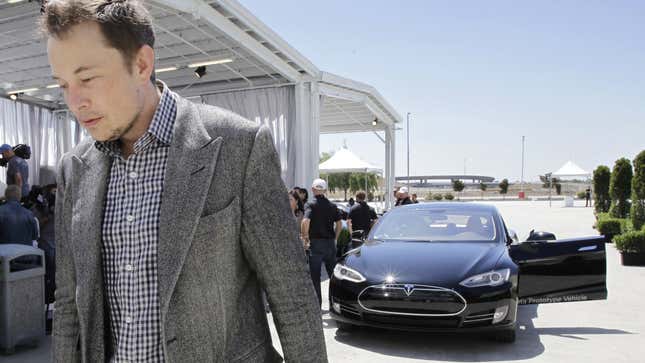 A future refresh of the lower end of BMW's electric range—an i5, perhaps—could aim more directly at the current Model S market. Meanwhile, Tesla's so-called "Gen III" model, a mass-market car rumored to price at $35,000 and launch in a few years, sounds a bit like the existing BMW i3. In the end, it all adds up to more congestion on the road that Tesla has had mostly to itself.