Despite predictions otherwise, American car culture remains alive and well. In fact, 2013 was the best year for car sales since 2007, and industry sales figures for March point to another strong year. But in the eyes of the stock market, when it comes to America's auto industry there's only one story: Tesla.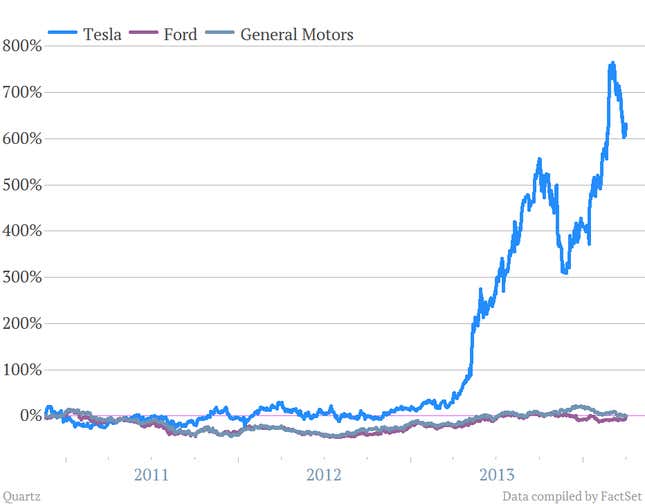 The above chart shows performance since GM's post-bankruptcy IPO in late 2010. So steeply has Tesla's share price risen that it makes the fierce struggle for market share between GM—currently beset by a damaging recall—and its historic foe Ford—in a bit of a sweet spot after a better-than-expected March—and other carmakers seem trivial.
When measured against actual sales, Tesla's towering valuation is completely out of whack with those of every other auto manufacturer on the planet.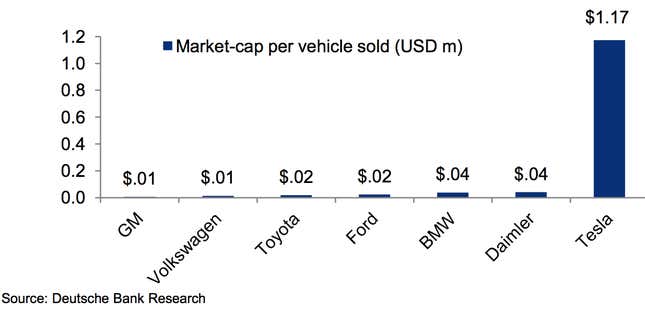 That valuation isn't even fully explained by future vehicle sales, as the chart below from Goldman Sachs shows. By 2025, Tesla's still only expected to be the eighth-biggest vehicle maker globally.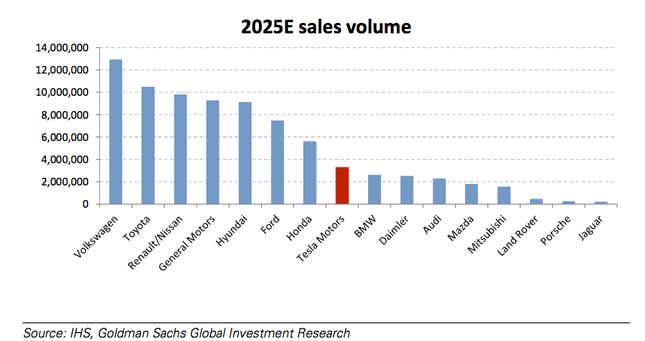 So what's behind Tesla's surging stock price? Way more than just cars. As we've discussed before, its valuation is based in part on the belief that it can disrupt other industries like energy utilities, and that it will sell its batteries for purposes beyond cars. Whether this actually happens, of course, is anyone's guess.