When Vladimir Putin embarked on his extracurricular activities in Ukraine, he wasn't trying to give the US residential real estate market a boost. But in the fog of quasi-war, funny things can happen.
This morning's readings on activity in the US mortgage market show a tidy uptick, with overall activity up 5.3% and applications for mortgages to purchase new houses jumping to their highest level since earlier this year.
This isn't much of a mystery. Some of it has to do with a seasonal rebound in spring. But it also has to do with the fact that US mortgage rates are hitting some of their lowest level in months.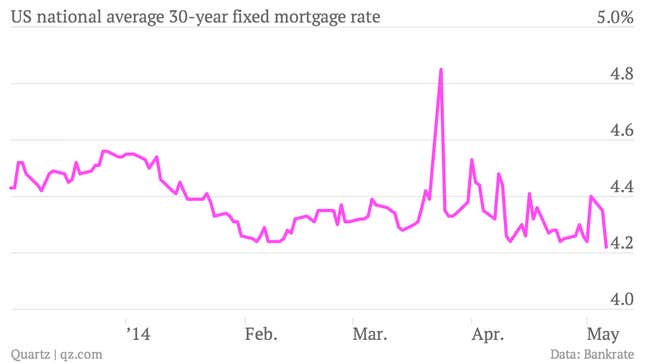 Mortgage rates tend to track the yield on US government bonds, and this is where the mystery comes in. US economic news has been quite good. And the Fed has continued to wind down its bond-buying programs. All else equal, both of those facts should push US government bond yields—and by extension mortgage rates—higher. But they're not.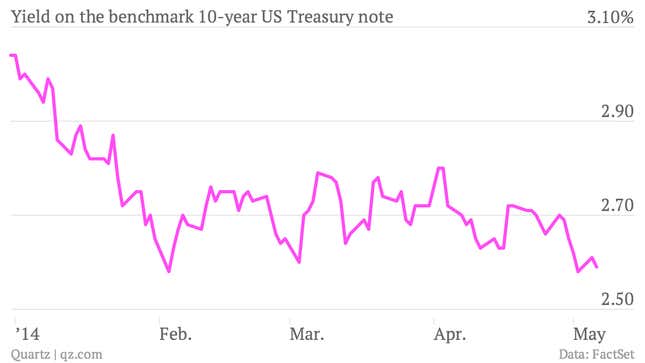 Why not? That's where Putin comes in. His destabilizing activities in Ukraine have made a lot of investors plenty skittish. And when money gets scared, it disproportionately runs for the safety of US government bonds. That pushes bond prices up. (And because yields move in the opposite direction of prices, it keeps yields low.) In the first quarter alone, some $51 billion coursed out of Russia.