Drought in Brazil, combined with a crop-harming fungus in Central America (paywall), have sent wholesale coffee prices to above $2 per pound for only the second time in the last fifteen years on the InterContinental Exchange in New York. But the prices paid on the commodity markets for unroasted beans are still dirt-cheap compared to what the Swiss are charging the rest of the world for their roasted beans.
In 2013, the average price paid for roasted coffee exported out of Switzerland was $18.75 per pound, according to data compiled by the International Trade Centre. Other top exporters shipped their coffee for around $4 per pound.
The premium paid for roasted Swiss coffee is likely a result of the Nespresso pods, which are manufactured in three Nestlé factories in Switzerland. The few grams of coffee contained in each of those single-serving brewing cups end up selling for a retail price of around $50 a pound—though they are marketed at a more palatable $0.60 to $0.70 a cup. (Instant coffee—another Nestlé staple—can cost around $20 per pound, while a pound of Starbucks coffee beans goes for around $12 to $20.)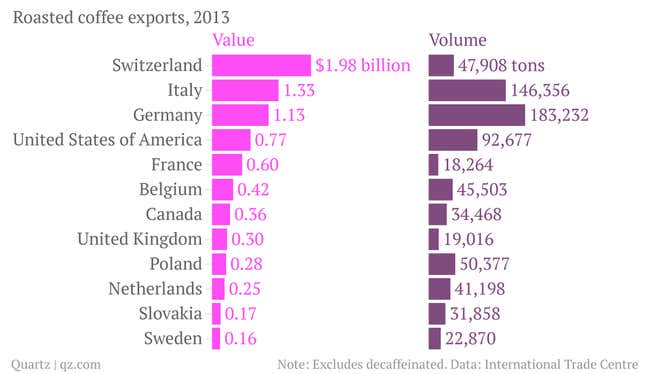 Switzerland was only the fifth largest exporter of roasted coffee by volume in 2013. Yet, due to Swiss beans' high price, it was the top exporter by value. Switzerland's caffeinated roasted coffee exports last year were valued at 49% more than the next largest exporter—Italy—even though the Swiss export 67% less volume.
Selling coffee in such tiny quantities and specific formats also means that Switzerland manages to make a lot of money on a relatively small amount of coffee, so it imports significantly less of the global crop of unprocessed beans from coffee-growing countries than other coffee-roasting countries. The US, Germany, and Italy—the other top exporters of roasted coffee—together buy 46.4% of the world's supply of raw coffee beans. Switzerland buys just 2.6%.