To read Alibaba's recently filed IPO prospectus, you'd think that the e-commerce giant is focused primarily on beefing up its China businesses, with little interest in challenging those who dominate US e-commerce on their own turf.
But there are clues that this might not be the case, as we outlined here—perhaps the most intriguing of which is Alibaba's $206-million purchase of a 39% stake in ShopRunner (p.F-59), a US online retail platform that's positioning itself as a direct rival to Amazon Prime.
Based on a subscription model, ShopRunner charges customers $79 a year for free two-day shipping. That's right—the same price Amazon Prime charged before it jacked up its prices. Whereas Amazon is organized by item, ShopRunner is a collection of virtual storefronts of brands such as Brooks Brothers, Diesel, Speedo, Eastern Mountain Sports and Petsmart.

ShopRunner is being pretty direct about its challenge to Amazon Prime. Check this out:

Part of ShopRunner's proposed appeal is not just that you can order stuff and get it quickly, but that you can order nice stuff and get it quickly. For instance, the website's "ShopRunner vs. Amazon Prime" section boasts that only on ShopRunner can customers get "luxurious Prada handbags," "Manolo Blahnik heels" or "a classic Brooks Brothers suit" in two days. It's a little cheeky about its challenge, too, shooting down the benefits of Amazon Prime's online video streaming library (a feature it doesn't offer) with the remark that "we all know Netflix is better."
As far as its model goes, ShopRunner is similar to Alibaba's Tmall. Both have "virtual storefronts" run by retailers, and Alibaba takes a 3% or so cut of Tmall vendors' sales; ShopRunner gets 2-5%. While both leave it to the retailers themselves to ship the items, Amazon has to pay for stocking and maintaining warehouses, as well as managing shipping.
To be sure, the benefits of the ShopRunner deal are not only in the US. Another reason Alibaba might be interested in ShopRunner is to give foreign retailers a trusted, US-based platform for selling to Chinese consumers—ShopRunner offers users of Alibaba's PayPal-like Alipay online payments service the ability to shop at affiliated retailers and have purchases delivered to China in 10 days or less. The system allows these retailers to protect their brand reputation in China from the pirating that's allegedly rampant even on Tmall, the Wall Street Journal points out.
Where Tmall and ShopRunner differ quite a bit is on the brand offering. ShopRunner appears to be positioning itself as an upmarket rival to Amazon, signing up relatively fancy brands to its online mall and waiving the annual fee for American Express cardholders (AmEx is an investor). And you can see the appeal for tonier labels that don't want their brand's reputation undermined by the price-comparisons that Amazon invites. While Tmall does offer "Big Brand Street" (see screenshot below), it also offers a much wider range of brands.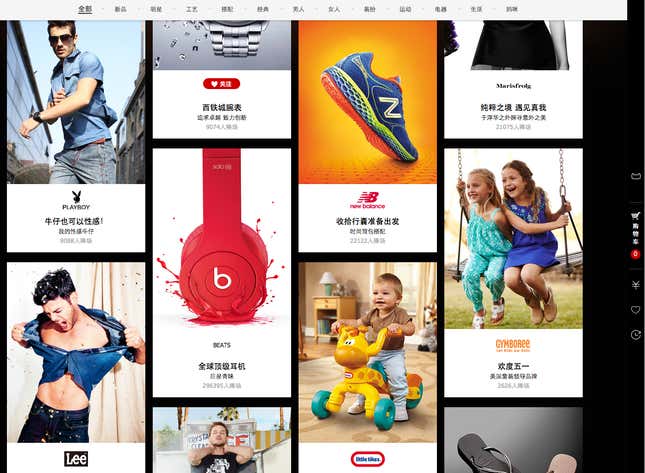 But though Alibaba's China offerings might be more diverse, its investment in fancy-focused ShopRunner is consistent with some of its other recent deals in the US retail space. In January 2014, Alibaba invested $15 million in the luxury e-commerce site 1stdibs. A month later, it launched 11 Main, an online marketplace for local boutiques created by Auctiva and Vendio, two startups that Alibaba bought back in 2010.
Does that mean Alibaba is mounting an attack on Amazon's US market share—and that it's concealing this from prospective investors? Not necessarily. But it also means that battle might not be so far off.