A surplus of superheroes at the box office has some critics arguing Hollywood is making too many comic-book movies. But these adaptations, refreshes, and revivals aren't going away any time soon. The following data points tell us why.
After repeated run-ins with Superman in the 80s, and Batman in the 90s, moviegoers were largely deprived of superhuman vigilantes until the 2002 release of Sam Raimi's Spider-Man. It was the highest-grossing film of 2002, bringing in over $400 million for Sony Pictures. Since then, it has been rare for fewer than six comic-book adaptations to be released in any one year.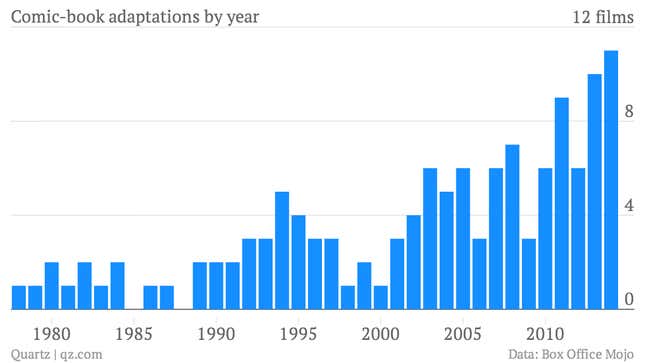 Despite the glut, audiences don't seem to be losing interest. US box-office revenue generated by these films has cracked $1 billion on three different occasions. The Avengers, a film that packed as many comic-book favorites onto the screen as possible, made $623 million in the US alone two years ago.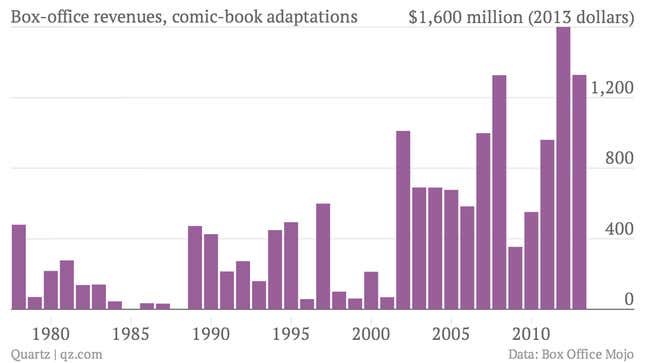 What's more, adaptations are massive hits among increasingly vital moviegoers outside the US. Right now, Captain America: The Winter Soldier and The Amazing Spider-Man 2 sit at the fourth and fifth spots respectively in China's massive box office, the second-largest after the US.
Those international revenues make it perfectly acceptable for big-budget films to barely break even in the US.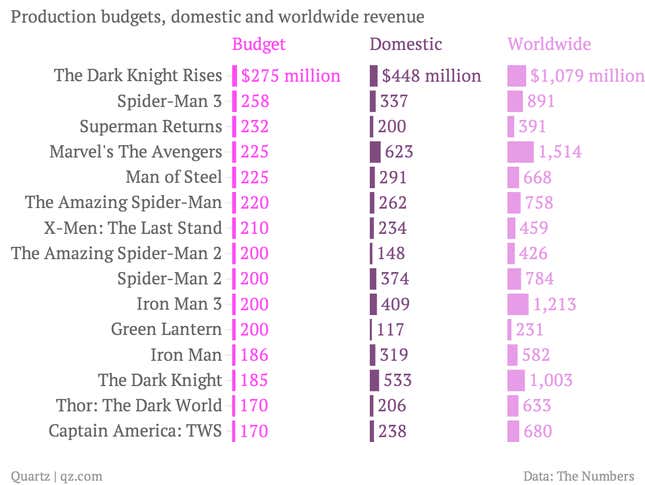 Studios have also become expert at carefully calibrating their movies to suit mainstream tastes, consistently producing films that are just good enough to pull in the masses but not too visionary to ruffle their feathers. For films made since the early 2000s, the average critical reception of comic-book adaptations has rarely exceeded 70% on Rotten Tomatoes, a website that aggregates critics' reviews.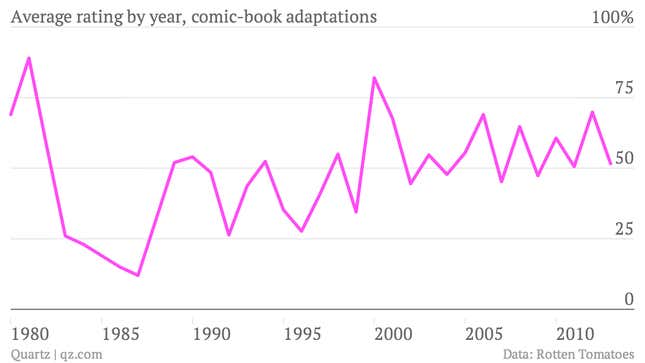 The Avengers may be the most recent high-water mark for superhero films, but don't be surprised if movies like Teenage Mutant Ninja Turtles, X-Men: Days of Future Past, or Big Hero 6—all coming out this year—set new records that spur yet more enthusiasm for the superhumanly-overworked genre.