On the hit 2012 album "The Heist," by the Seattle hip-hop outfit Mackelmore & Ryan Lewis, the track titled "Jimmy Iovine" rails against the music business, accusing record labels of exploiting artists. "We'll give you a hundred thousand dollars," the lyrics go. "After your album comes out, we'll need back that money that you borrowed."
Macklemore has since denied the song is actually about Iovine. (You can listen for yourself here on Spotify.) But is still takes on added meaning amid multiple, credible reports (paywall) that Iovine, the co-founder of Beats Electronics and its Beats Music streaming service, is poised to join Apple, the world's biggest company, to overhaul its entire music strategy, as part of the rumored $3.2 billion deal.
In the music industry, Iovine is about as connected and powerful as they come. If Apple is serious about making more money from music, then Iovine, the former producer for artists such as Bruce Springsteen and U2 and the founder of Interscope Records (now Interscope Geffen A&M), is the man to make that happen.
Apple's iTunes, software, and services segment, which generated $4.5 billion in revenue last quarter (about 10% of the company's total) is growing nicely, but that's mainly due to app sales. Music sales have been falling, and most people attribute the decline to the advent of streaming services such as Pandora and Spotify. The below chart is from Asymco's Horace Dediu.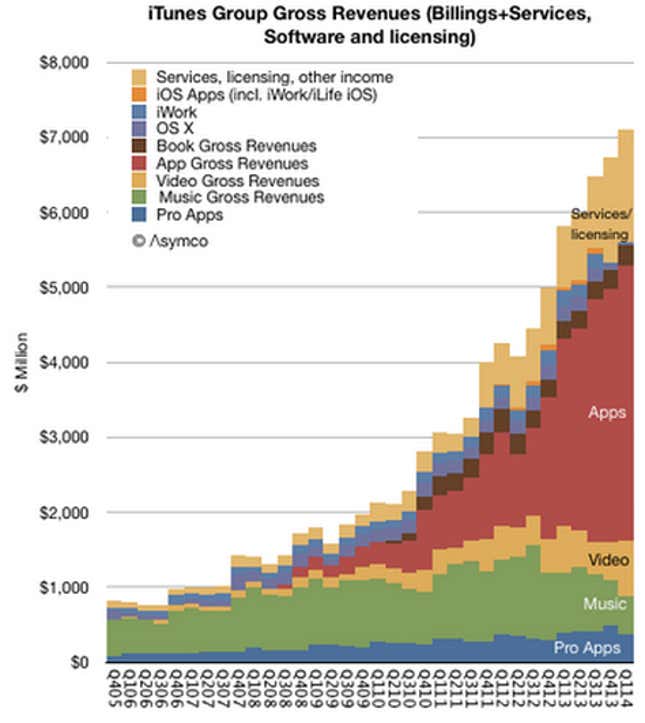 The single biggest cost that any digital music service faces is royalties due to publishing companies, songwriters, record labels and artists. Pandora, by far the biggest new-media music company, pays more than half of its revenues out in royalties, yet has still been engaged in a series of bitter legal skirmishes with publishing companies. (We took a deep dive into one of those recently.)
"On demand" services such as Spotify and Beats Music, which launched in January, negotiate their sound recording royalties directly with labels. Apple will need to renegotiate the deals that Beats had in place. But with Iovine in its corner, it is reasonable to assume it will end up with deals that are at least as attractive as those that Beats already struck.
Spotify, which is yet to turn a profit, has been fairly transparent about the royalties it pays out, yet it has still been savaged by artists over remuneration. Beats, still in its infancy, has been less transparent. (Beats got off to a slow start since its January launch, with a subscriber base estimated to be in the "low six figures" in April, according to Billboard—compared to Spotify's 6 million subscribers.)
Expectations are likely to change once Beats is beneath the umbrella of the world's biggest company. And this wouldn't be the first time that Apple has been criticized by artists for its role in disrupting the music business.