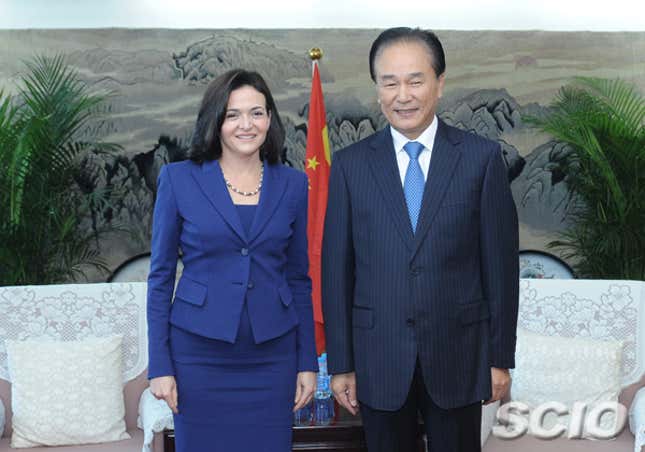 China's 600 million internet users have been off-limits to Facebook since 2009, but that isn't stopping the social network from scouting for office space in Beijing's Fortune Financial Center, according to Bloomberg.
Why would Facebook open an office in a country where its website and apps can't operate? Facebook declined to comment to Bloomberg, but the company's transformation into a mobile advertising juggernaut provides some clues.
China's local tech industry is booming, but homegrown firms are also looking beyond the country's borders. For the Chinese developers behind games like Family Farm Seaside or chat app WeChat, that means encouraging Android phone users to install their software. Advertising for app installs just happens to be the sweet spot of Facebook's current business model (paywall), and the company already has a major footprint in some of the markets that Chinese start-ups covet most.
Western tech companies spend millions of dollars a month marketing their games and other apps through Facebook's so-called mobile app install ads, and Facebook could be eyeing a similar set-up with its office in Beijing. App installs are a hugely profitable business, worth as much as $10 per successful install, and they are the main driver behind Facebook's impressive mobile ad revenues.
App developers from the mainland don't even need to venture beyond the confines of greater China to make Facebook an attractive marketing platform. Facebook's 65% market penetration in Taiwan, for example, is the company's highest anywhere in the world, narrowly edging out Hong Kong's 61%.
There is no guarantee, of course, that Chinese firms like Tencent will pick Facebook to boost app installs outside of China—especially since WeChat is a direct competitor to Facebook's recently purchased WhatsApp. But Facebook execs like Sheryl Sandberg, who went on a meet-and-greet tour of China last year (pictured above with Cai Mingzhao, director of the State Information Office), may think it's worth putting out a shingle in Beijing to find out.
Breaking through the Great Firewall and making Facebook palatable to mainland China's leaders may have to wait a while yet. But in the meantime, there's still money to be made from a presence in Beijing.