Every November, on the eve of one of China's most quirky holidays, Singles Day, groups of unattached young Chinese get together and celebrate their singleness with a night of online shopping.
China's guanggun jie—literally, "bare branches holiday"—on Nov. 11, was once a little-known celebration of life as a bachelor or bachelorette. Now, thanks to the Chinese e-commerce giant Alibaba, it is the world's largest online shopping event in terms of sales—and an illustration of how the retail and internet giant that is on its way to going public in the US almost singlehandedly built the foundation of online retail in what's now one of the world's largest e-commerce markets.
Singles Day, also known as "11.11" for its annual date, has outstripped older online shopping holidays, with retailers offering discounts of at least 50% off. (Other sellers offer smaller discounts, but they won't be featured on Alibaba's standalone 11.11 site.) Last year, transactions on Alibaba's online payment system Alipay reached 35 billion yuan (pdf) or $5.8 billion–more than the combined sales of US retailers during Cyber Monday and Black Friday. About 100 million yuan was spent every minute over the course of 24 hours. And almost a third of the Chinese population, about 402 million people, visited Alibaba websites during the day, the company said.
That growth didn't happen on its own. The 11.11 holiday was launched in the 1990s by a group of university students at Nanjing University, a few years before the Chinese entrepreneur Jack Ma founded Alibaba. In 2009, Alibaba encouraged merchants on Tmall, an Alibaba platform that's similar to Amazon, to offer promotions on the day as a way to boost sales in between two holiday seasons in China—Golden Week, a national holiday at the beginning of October, and the winter holidays of Christmas and the Lunar New Year. Alibaba advertised the day as an occasion to splurge on oneself—an answer to Valentine's Day and most other popular holidays in China, where the focus is on buying gifts for others.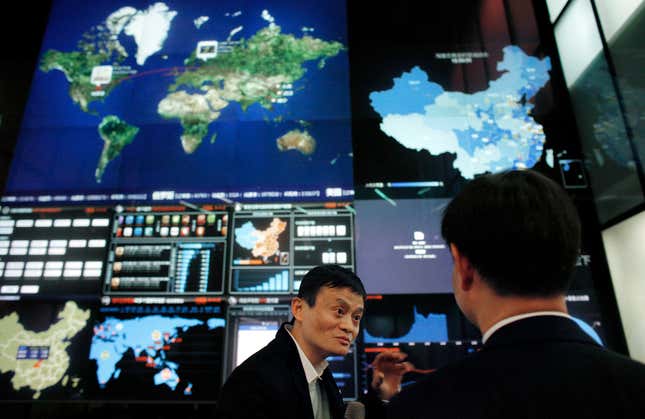 Growing internet usage and wealth, especially in second- and third-tier cities where traditional retail options are limited, meant stronger-than-expected demand. By 2009, e-commerce in China was already becoming popular, with sales more than doubling between 2008 and 2009, to 263 billion yuan. Even with only 27 merchants participating in Alibaba's 2009 Singles Day event, consumers spent over 50 million yuan.
"The first year, they were surprised at how well it went, and the second year promoted it more, and then it took on a life as its own," says Porter Erisman, a former Alibaba employee and director of a documentary about Alibaba titled Crocodile in the Yangtze. 
Today, advertising for 11.11 makes Christmas season advertising in the US look mild: It begins as early as three months before the day and ranges from social media campaigns to text messages and phone calls promoting deals. Rebates are offered in the form of "red envelopes" or hongbao that are traditionally given as gifts. Last year, Alibaba struck a deal with China's two largest telecommunications firms, China Mobile and China Unicom, to give free data to subscribers for the months of November and December.
Moreover, ads for the shopping holiday appeal to the country's youth by playing on the idea of singleness—a reality millions of young Chinese face because of a widening gender gap—represented by the four ones in 11.11:
The promotion seems to have worked. Last year, over 20,000 merchants, including Nike, Adidas, Gap, and Uniqlo, offered deals on Alibaba platforms. Between 2009 and 2013, sales grew 700-fold.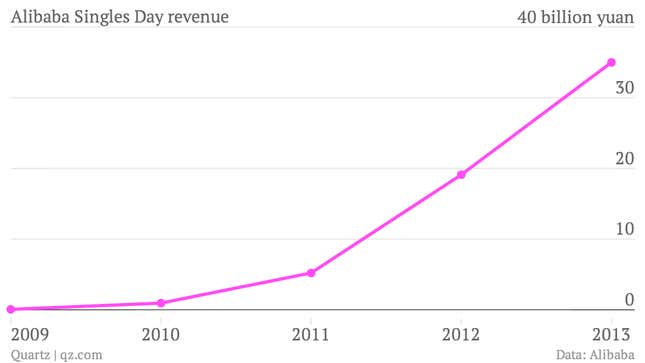 The popularity of Alibaba's Single's Day prompted other firms to follow its lead and has arguably been an impetus for the entire online retail industry. Between 2009 and 2013, e-commerce in China showed a compound annual growth rate of 71%. By 2020, e-commerce transactions in China are projected to be larger (pdf, p. 2) than that of the US, the UK, Japan, Germany, and France combined.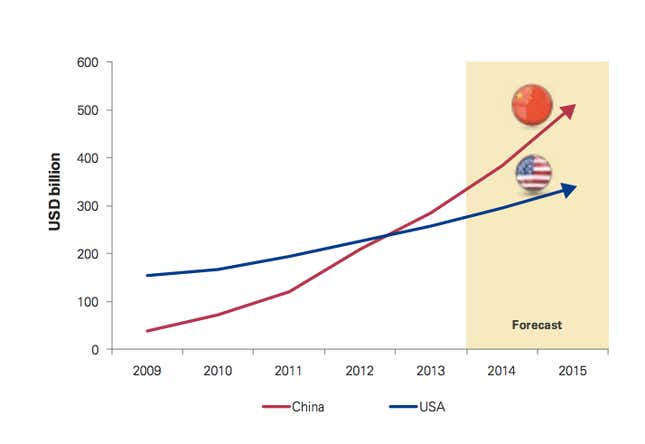 Chinese e-commerce rivals such as Jingdong, a retailer that started out focused on electronics, and Suning, an appliance seller, now feature deals on Singles Day. Last year, Jingdong promoted half-price diapers and 70% off items such as slimming belts and facial products. Suning began promotions early, with ads featuring the slogan: "Four days, four nights, shop non-stop." There is so much shopping energy around the holiday that brick and mortar stores such as Intime, a retail chain that Alibaba recently bought a 26% stake in, also started running promotions during 11.11 of last year.
"Singles day stands out to me as the ultimate example of just how much a role Alibaba has in pushing forward e-commerce in China," Erisman said. "This is an invented holiday."
Today, the holiday serves as a gauge of consumer sentiment on everyday goods, as well as a survey of the more eclectic. Popular products have included American toilet seats, chandeliers, and French wine; last year a Chinese car website offered a promotion on BMWs. While last year's top-selling merchant was the Chinese smartphone maker Xiaomi, baby formula and intimates were also big. Half a million cans of baby formula had been sold by 10:30am Beijing time last Singles Day—enough to feed all of China's two-month old infants for two weeks. And the number of bras sold—1.6 million—could have been stacked up to more than three times the height of Mount Everest, the company said.
Despite the shopping holiday's success, it's not clear how much retailers really benefit from Single's Day. The town of Dongfeng in the north of Jiangsu province calls itself China's "number one e-commerce village" (link in Chinese) and has built its entire economy around selling on Alibaba's platforms. But some merchants opt out of Singles Day because the glut of orders and backup at shipping companies means they often have to send goods late and end up getting poor customer reviews.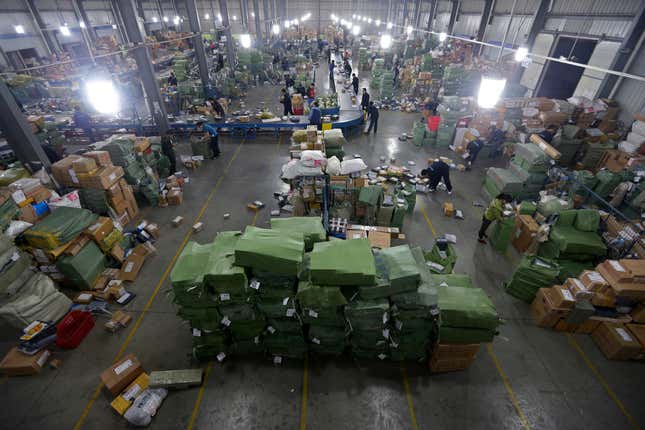 Undercutting among merchants is another problem. "You can get price wars," David Michael, a consultant at Boston Consulting Group tells Quartz. "It is also a situation where you do have a battle going on, as different sites try to outdo themselves in terms of promotions."
Alibaba itself shells out a pretty penny for the day: its prospectus shows that expenses during the fourth quarter of 2013, a reporting period that includes Singles Day, were almost double that of the previous period—9.9 billion yuan, spent on payment processing and extra bandwidth, among other things. General and administrative costs, as well as sales and marketing expenses were about triple that of the quarter just before. And on annual basis, those numbers appear to be increasing: Alibaba spent 50% more on sales and marketing during the fourth quarter of last year, compared to 2012. (The company makes its revenues from commission and advertising from merchants, not actually selling the merchandise itself.)
Still, Alibaba is already trying to manufacture another shopping holiday: "12.12" a day, on December 12, for small-scale consumer-to-consumer merchants on Alibaba's platform Taobao to offer promotions on niche items that aren't sold in high volumes—from pill boxes to nail clippers with built-in mirrors.
Despite the giant size of the Chinese e-commerce market, there's still plenty of room to grow: online retail only accounts for 7.9% of total retail in China and only 49% of internet users in China actively shop online. In time, China's Single's Day holiday may beget yet even more invented shopping holidays.