You may want to start buying your burritos in bulk. Facing a surge in food costs, the Mexican fast food chain Chipotle has announced plans to boost prices over the next few months.
But the price hikes aren't confined to burritos: Customers will have to shell out more for fast food and snacks across the board. In a recent research note, Goldman Sachs analysts spotlighted "pricing on the table" as one of the key themes of the first-quarter earning season now coming to a close.
While it should be said that overall US consumer prices have remained remarkably stable in recent years, it's always interesting to hear why and what consumers are going to be asked to pay more for. In this case, companies offered several quite different explanations for their price hikes—some attributing it to strong consumer demand while others blamed it on rising costs:
Chipotle
Chipotle's impending price increase, the first in three years, seems to be commodities-based. The chain's food prices were up 34.5% last quarter in total, with big increases on some of the staples of Chipotle's famously high-velocity assembly line. Beef prices are up, largely due to a huge drought. And there's also significant inflation in cheese and avocado prices. Pork might be a concern too.
"With all of this food inflation we have seen so far and expect to continue to see, we've decided to increase our menu prices," explained Chipotle CFO John Hartung on the company's most recent earnings call. "While we want to remain accessible to our customers, we're at a point where we need to pass along these rapidly rising food costs."
Here's the rise in beef prices, which helped spur a lot of the following price increases. The chart starts with prices at $4.90 a pound, as they were at the beginning of last year.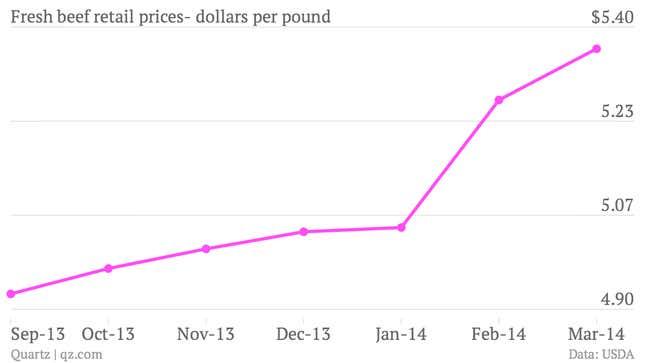 McDonald's
McDonald's has already boosted prices, saying that first-quarter commodity prices rose nearly 3%, primarily due to protein costs. The company projects that the "food-away-from-home" inflation index will be 2.5-3.5% for the full year, higher than overall consumer price inflation. "I think inherent in that is you do see franchisees generally around the industry, not just McDonald's, anticipating some of these higher input costs," CFO Peter Bensen said.
First-quarter profits were still down at McDonalds, with the boost from higher prices offset by fewer guests, higher commodity costs, and labor. McDonald's expects similar pressure in the current financial quarter.
YUM! Brands
Increased consumer demand prompted the owner of Taco Bell, Pizza Hut, and KFC to raise prices at the latter two restaurants near the end of last year, according to CFO Patrick Grismer, and he said the company expects to benefit from those increases on pizza and fried chicken through the year. This wasn't a response to commodity prices, but to better economic conditions, Grismer said: "We felt that we had room to do that based on the recovery that we saw in key consumer metrics."
But like Chipotle, Taco Bell is also facing greater-than-expected pressure on the beef and cheese front, Grismer said. "You'll recall that we came into the year expecting 4% inflation in meat and 4% deflation in cheese," he said. "Things could not have played out any differently, as we're now expecting low- to mid-double-digit inflation in beef… And then for cheese, we're expecting now mid-single-digit inflation. It was up over 20% in the first quarter."
PepsiCo
Pepsi took the glass-half-full approach, saying it raised prices last year and in the first quarter of this year because it feels its brand is strong enough to justify it, according to CEO Indra Nooyi. Coming into the summer selling season, consumers can expect pricing to go up in both "carbs and non-carb" beverages she said.
"The strength of our brands is clear in our ability to achieve consistent net price realization," she said.