Riots in Vietnam—sparked by China's move to place a massive oil rig in disputed territory in the South China Sea—are spreading. A massive under-construction Taiwanese steel mill was set alight and more than twenty people have died in violence related to the riots, most of them Chinese, Reuters reported, quoting a doctor at a hospital that treated the wounded.
The deaths, particularly if they are Chinese citizens, intensify an already volatile situation between the two countries and escalate the potential damage for Vietnam, which relies heavily on foreign investment and tourism. Vietnam's GDP growth of 5.4% in 2013 was boosted significantly by foreign companies, including the establishment of thousands of foreign projects and factories in recent years, as well as more than 7 million foreign tourist visits.
Industrial output from foreign-owned industries has been rising, and made up 46% of the country's overall industrial output in 2012, which is the most recent government data available.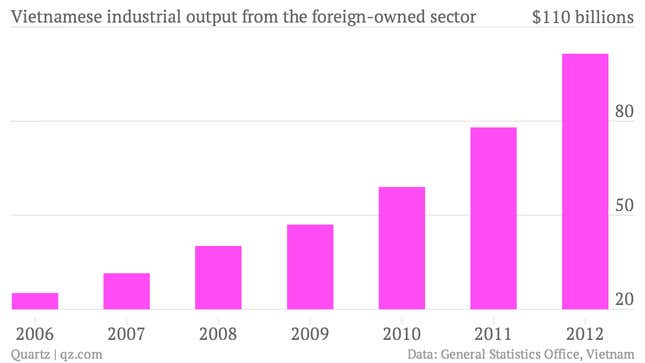 Chinese investors aren't at the forefront of this trend: In the first 10 months of 2013, the biggest source of foreign direct investment in Vietnam was Japan, with $4.8 billion, followed by Singapore and South Korea. But rioting factory workers did not make much of a distinction. "We kept telling the rioters that we are Taiwanese, not Chinese, but they wouldn't listen," the head of a Taiwanese business association told Vietnamese television.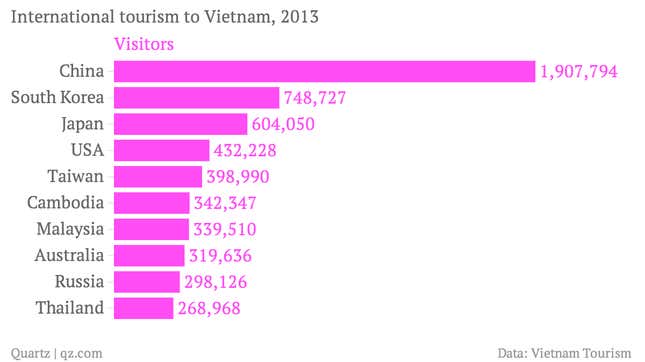 Travel and tourism's total contribution to GDP (pdf) in 2012 was 270 trillion dongs ($12.8 billion) or 9.4% of the total, and that figure was expected to grow by 7.3% in 2013. Here China is certainly the leader:

Vietnam is also heavily dependent on China for the raw materials supplied to its factories. It gets about one-quarter of its imports from China.
"This is serious," Vietnamese Prime Minister Nguyen Tan Dung said in a telegram to Vietnamese police, the AP reported. "There are reports of a growing police presence on the ground," the US embassy said in a message to its citizens in Vietnam.
Nevertheless, further escalation of the situation seems like a very real possibility. Vietnamese state-run newspapers on Wednesday ran photos of Chinese ships attacking Vietnamese vessels near the oil rig, which  were attributed to the Vietnamese Coast Guard.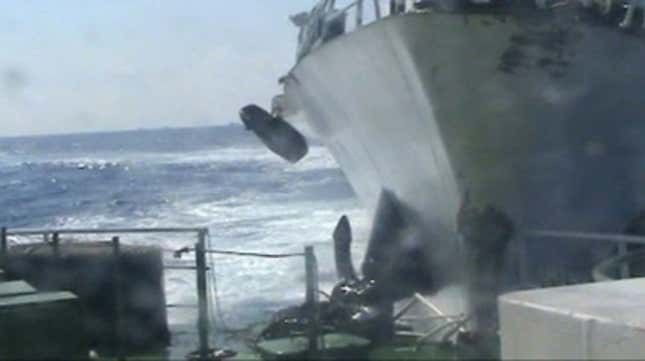 Unlike Japan and the Philippines, embroiled in their own maritime disputes with China, Vietnam is not able to call on the United States as a military ally. Still, the US Navy's Seventh Fleet is pushing for more port visits to Vietnam as a counterweight to China, Reuters reported. A Vietnamese military source told Reuters the country is "talking to the US" but it was to early to say how the recent tensions could change the US-Vietnam relationship. "We have a lot to consider," the source added, in a massive understatement.