China's increasingly aggressive claims over disputed territory in the South China Sea boiled over Wednesday, when ships from Vietnam and China collided about 140 miles off of the Vietnamese coastline, and a Chinese fishing boat was seized by Philippine authorities carrying hundreds of turtles.
A "large flotilla of naval vessels" from China clashed with over two dozen Vietnamese ships on Wednesday,  the Associated Press reported. The flotilla was protecting a $1 billion oil rig owned by state oil giant CNOOC that was placed in the disputed area over the weekend. A Vietnamese coast guard official said Chinese vessels fired water cannons and rammed Vietnamese ships, injuring several sailors and causing damage to the vessels.
China also tried to forbid foreign vessels from coming within three miles of the rig, Chinese state media reported over the weekend. The 136 meter (446 feet) tall oil rig can drill to 10,000 meters, according to Xinhua, and has a platform deck as "big as a football field," making it "the aircraft carrier of ocean equipment."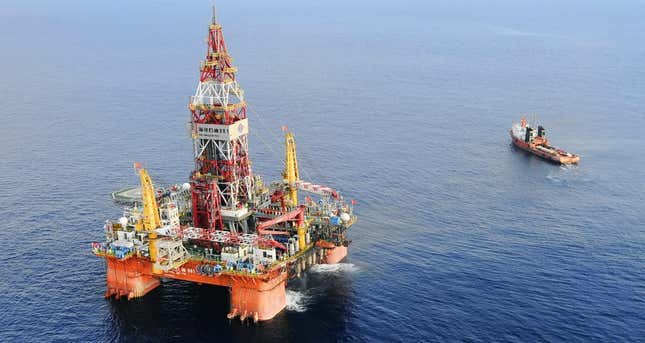 Meanwhile, a Chinese fishing boat and 11 fishermen were detained by Philippine authorities off the Half Moon Shoal in the disputed Spratly Islands. Police "found about 500 turtles in the vessel, some of which were already dead," Niel Vargas, chief superintendent of the Philippine National Police Maritime Group, told Reuters. Several species of turtles from the area are protected.