Even by the low standards that market watchers have come to expect, the latest data out of the euro zone is disappointing. GDP grew by a meager 0.2% in the first quarter, the statistics agency reported today (pdf). Analysts expected growth twice as fast, which was already a pretty low bar.
Combined with stubbornly low inflation, the latest evidence of a tepid, fragile recovery in the euro zone raises the prospects for some sort of new stimulus from the European Central Bank when it meets next month.
Worryingly, the French economy unexpectedly ground to a halt in the first quarter. Italy recorded another small contraction in GDP, its 10th in the past 11 quarters. Never mind that Germany's growth rate doubled in the latest quarter—investors dumped shares across the continent today, as well as the bonds of the euro zone's most troubled members.
Put simply, the euro zone economy is stuck in a stupor. Since 2008, quarterly GDP has shrunk nearly as often as it has grown. Recession is an alarmingly routine state for a number of countries: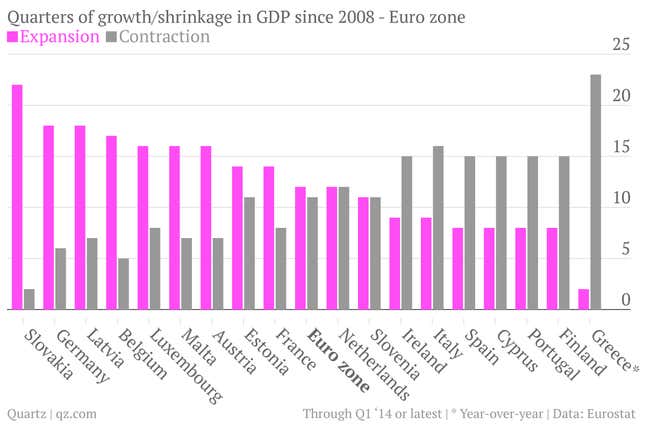 Things are a bit better in the rest of the EU, with Poland the stand-out performer. Amidst the worst global downturn since the Great Depression, the Polish economy has recorded only one quarter of negative quarterly growth: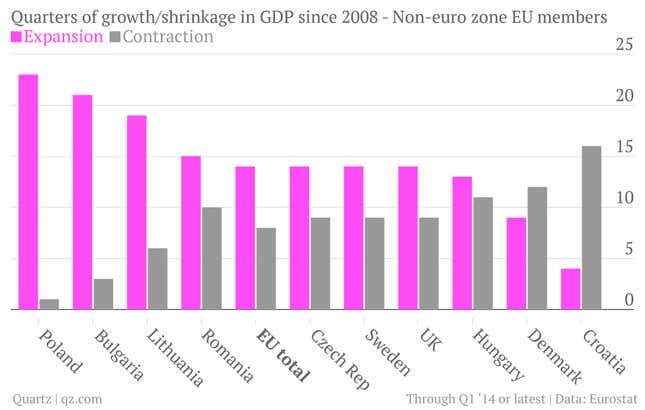 Corporate execs are putting a brave face on the patchy—and in many cases, pathetic—prospects for growth in Europe. But comments like "we hit the bottom" (paywall) are hardly inspiring.
The euro zone may be growing, just, but any meaningful pick-up will rely on whether the central bank does something, anything, to jolt the economy out of its torpor. In the meantime, it will continue to lose ground to its rivals, where policymakers have been much more aggressive in goosing economic growth.