Mario Draghi has a way with words. Traders pore over the remarks of any prominent central banker, of course, but few conduct policy almost exclusively via turns of phrase like the president of the European Central Bank.
Despite weak growth and dangerously low inflation in the euro zone, the ECB has left interest rates unchanged for nearly six months. Before each monthly meeting of the central bank's rate-setting committee during this time, speculation rises about a rate cut or "unconventional" measures—buying up government bonds and other debt instruments, for example—to boost the economy.
And each time, Draghi disappoints the doves by holding rates steady—as he did again today—and pledging merely to "act swiftly, if required." This reluctance to throw open the monetary taps like the US, UK, Japan and others has pushed the value of the euro higher, which limits the region's already low inflation rate. On the news of no change in rates, the euro jumped to a two-and-a-half-year high earlier today.
The strength of the euro is a "serious concern," Draghi later said, making his most forceful comment about the currency to date. For this and other reasons, the ECB is "comfortable with acting next time," he said, suggesting that the rate-setting committee's meeting next month could finally produce some action. Although he dodged questions about what this will mean in practice, his clearest pledge yet to do something drove the euro suddenly down.
This follows a similar, if more pronounced, pattern to last month. In April, the ECB announced its interest-rate decision at 1:45pm central European time, with Draghi's press conference 45 minutes later. The euro strengthened during this interim period, only for Draghi to talk it down with vague promises of imminent action. Today followed nearly the same script: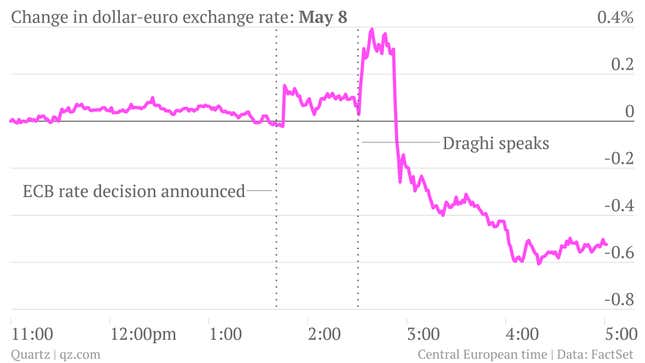 ---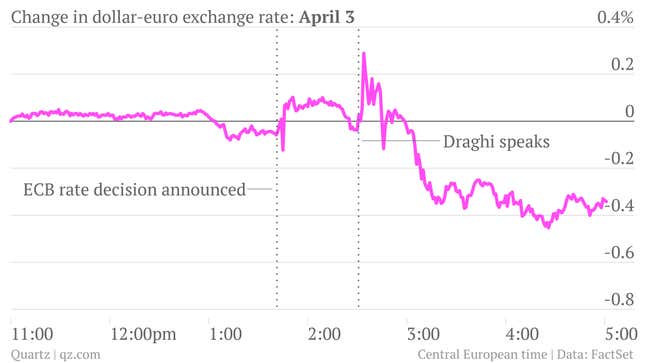 Pulling this trick off a third time looks like a tall order, given Draghi's rather explicit pledge to act "next time."  Eventually, even the ECB president will be forced to face the facts: actions speak louder than words.