"Central bankers like to talk more than they like to act," observed Steen Jakobsen, chief investment officer at Saxo Bank. He was speaking to a group of journalists in London today, ahead of the latest meeting of the European Central Bank's rate-setting committee.
Dangerously low inflation, which dropped to a multi-year low last month, led some to believe that the ECB could cut in its key interest rates to zero or even negative territory. In the end, the bank left rates unchanged and didn't unveil any extra stimulus measures. Instead, all ECB president Mario Draghi offered was talk.
The thing is, Draghi perhaps appreciates the power of words more than other central bankers. When the euro zone seemed at risk of breaking apart in 2012, his vague but forceful pledge to do "whatever it takes" to defend the currency calmed the markets. Although nobody is quite sure, even today, what Draghi actually meant, government borrowing costs in hard-hit euro members reversed course and have drifted lower ever since.
Amid fears that the euro zone is teetering on the edge of a Japan-style deflation trap, Draghi honed his talking points. The bank's governing council had a "rich and ample discussion" today about quantitative easing (government bond buying). The persistent strength of the euro, which reduces inflation, is also "increasingly important" in the bank's assessment of its policy options. In previous press conferences, the ECB president never addressed quantitative easing or exchange rates as explicitly.
Did it work? Immediately after the ECB announced no change to rates, the euro gained ground against the dollar, suggesting that markets were surprised by the lack of an easier policy. But as Draghi started speaking, the euro dropped sharply as traders digested his dovish comments.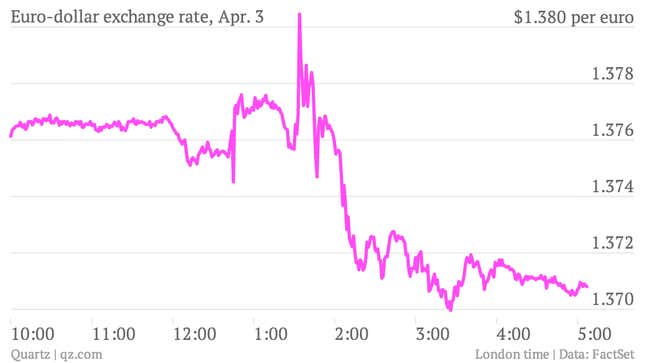 Once again, with little more than carefully chosen words delivered in Italian-inflected English, Draghi has talked the markets into doing some of his work for him. But it has now been nearly two years since his "whatever it takes" comment, and some analysts, including ING economist Carsten Brzeski, think that more talk won't help. Brzeski reckons the president's "art of doing nothing" act is wearing thin:
All in all, the bottom line of today's ECB meeting is that the famous "we stand ready to act" has been stretched to its maximum. No further verbal stepping up possible.
Still, where other central bankers have managed to sow confusion when providing "forward guidance," Draghi's speeches have thus far more effectively served his purposes. Unless euro zone growth and inflation accelerates soon, however, he will be forced to back up these words with action.