Although Portugal is about to mark a major milestone, few are in a celebratory mood. The country will exit its international bailout tomorrow, the second euro zone country after Ireland to do so.
"There will now be two or three decades of lean times," a fund manager told Bloomberg.
The "troika" of the European Commission, IMF, and European Central Bank pledged €78 billion ($107 billion) in support for Portugal in April 2011, and the country will be paying off these loans through 2042. Portugal was shut out of the bond markets completely during the depths of the euro crisis, so turning to outside help was the only way for it to pay its bills.
Although the worst may now be behind it, much work remains to put Portugal on a more stable footing. Yesterday the country's central bank noted pointedly that "progress made in the Portuguese economy is still insufficient." But Portugal's constitutional court has repeatedly rejected austerity measures put forward by the government at the behest of the troika. Now that the country is no longer beholden to the demands of its bailout creditors, some fear that the pace of reform will slow, not least because a tight election looms next year.
This is what the Portuguese economy looks like as it prepares to exit its bailout this weekend, in five charts:
The economy is still a long way from regaining its pre-crisis peak.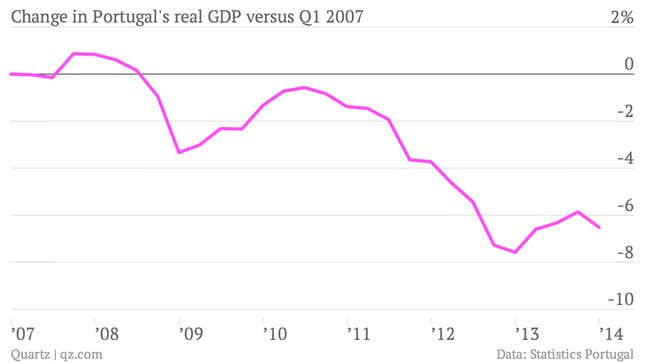 The budget deficit is down, but a target of 2.5% next year looks like a stretch. The government's total debt burden remains high, and rising.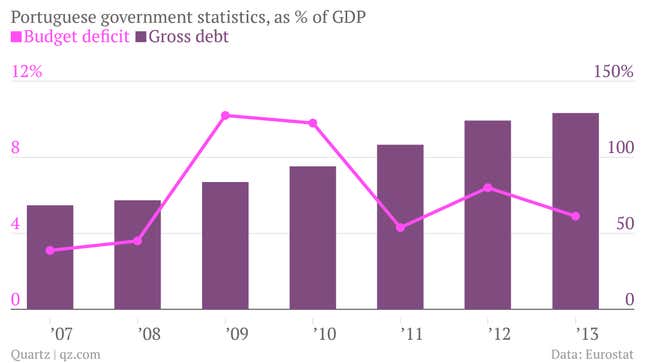 The unemployment rate is falling, but remains among the highest in the euro zone—surpassed only by Cyprus, Greece, and Spain.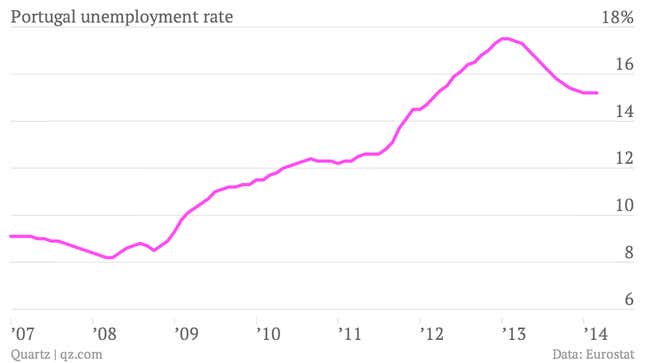 Banks' bad debts continue to rise, particularly for corporate borrowers. Bank credit has shrunk for three consecutive years.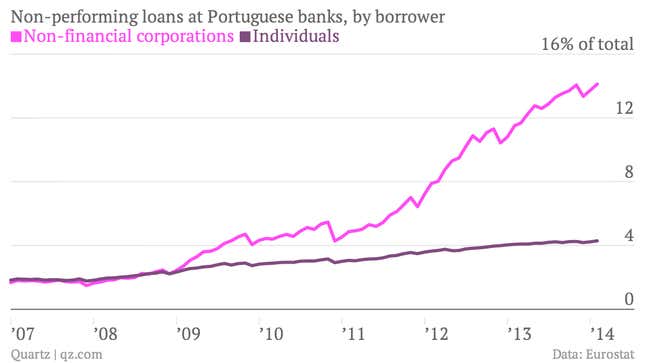 One bright spot is the revival of Portugal's export industry, with foreign sales at historic highs. Lower labor costs have made Portuguese products more competitive.