When the Mexican food chain Chipotle announced on its most recent earnings call that it will raise prices companywide for the first time in three years due to rising beef, dairy, and avocado prices, the company was somewhat vague about the increases, saying only that they would start in the second quarter. But the price increases are happening at a faster clip than expected, and may be larger than initially thought, according to an analyst note from Credit Suisse.
The thing is, people don't really seem to care about the price increases. That's either a testament to Chipotle's customer loyalty or to its ability to explain away the burrito inflation. In fact, according to stores surveyed Credit Suisse, the price increases have barely registered. Only a couple of stores said that customers commented on the price increase, and there was no change in behavior.
Chipotle's prices vary by geography, but the bank's pricing survey found an average increase of about 4% for chicken, and 8% for beef. Another example store had lower price increases on beef, but when other proteins and guacamole were factored in, it saw a 6.9% increase. On average, consumers can expect a price bump on the high end of what Chipotle initially guided its stores to, which was a 4% to 6% increase.
The biggest price increases found in the channel check were on beef burritos/bowls, and specifically in Westfield, New Jersey. Here's the chart: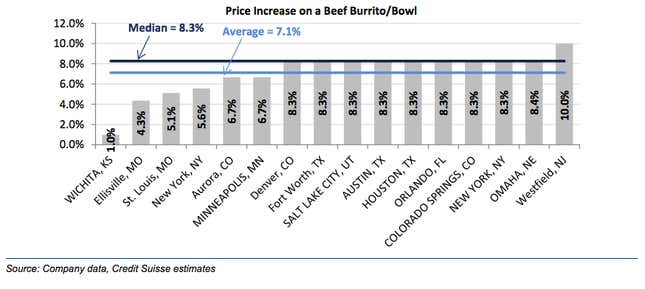 Most customers can probably expect to see price increases in the middle of the above range. The current pace implies that about 28% of stores will have increased prices by the end of the quarter, with more to come.
Pricing is a delicate lever for companies, and it has the potential to backfire. In this case, it seems to be working: at least, it prompted Credit Suisse to raise estimates for Chipotle's performance in the next few years.