The last time we checked in with Club Med, things weren't going so well. Six months later, the story is much the same. The venerable French resort operator recently reported that profit in the first half of its current fiscal year dropped by 10%, and the second half isn't looking so great: summer bookings over the past eight weeks are down 16% from the same period last year.
This puts the takeover battle for Club Med in a rather strange light. A number of investment funds are trying to outbid each other for control of the beleaguered company, with Italian investors led by the private equity manager Andrea Bonomi going on the offensive most recently. Bonomi's fund has quickly built a sizeable position in Club Med, pushing the company's shares to a five-year high: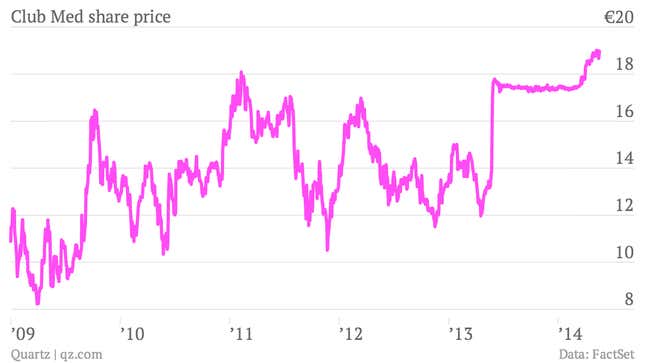 On the other side of the tussle is Ardian, a French private equity firm, which lodged a joint takeover bid with the Chinese conglomerate Fosun International for Club Med last year. Some small shareholders objected to the bid, and while it was stuck in legal limbo, Bonomi made his move.
After this buying spree pushed the company's share price well above the Ardian-Fosun takeover offer price (€17.50 per share, versus around €19 today), an investment company belonging to Italy's Benetton family, which owns a chunk of Club Med shares, withdrew its previous support for the takeover offer. This looks like it will trigger a legal battle of its own.
Why all this aggravation over such a struggling company? Business isn't exactly booming on Club Med's home turf—tellingly, during the depths of the euro zone debt crisis, the southern European states at the center of the turmoil were often sarcastically referred to as the "Club Med countries." Club Med tourists from France, its largest market, have fallen by more than 20% over the past five years.
But Club Med is making major inroads in China and elsewhere in Asia, and that's what appeals to the investors vying for ownership of the resort operator. In the first half of its latest fiscal year, Club Med's 10 Asian resorts (out of 66 around the world) generated 48% of its operating profit on just 13% of its sales. The company just opened its third resort in China, and reckons that the country will become its second-largest source of customers, after France, next year.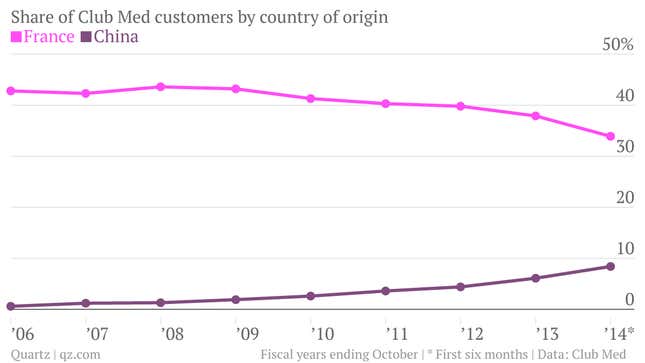 To serve those Chinese vacationers, Club Med plans to add more capacity in China as it cuts it elsewhere. That's because tourists from the region tend to stay close to home: Only 3% of the company's customers from Asia travel to a Club Med resort outside of their home region, a lower percentage than any other region that the company serves.
Club Med's all-inclusive holiday formula may be falling out of favor in Europe, where many cash-strapped consumers are cutting back anyway, but package tours are still popular among Chinese travellers. This explains the complicated and ill-tempered battle for control of Club Med between French, Italian, and Chinese investors.
Relations among shareholders at the company are anything but clubby, and what's at stake has very little to do with the Med.