Sun, sea and stagnation. This is the story of Club Méditerranée, the resort operator better known as Club Med, in recent years.
In its latest fiscal year, reported on Dec. 6 (pdf), the Paris-based company recorded a net loss of €9 million ($12.3 million), reversing a small profit the year before. Revenues, meanwhile, were stuck at around €1.4 billion, as they have been for several years. Losses have been much more common than profits at the company of late.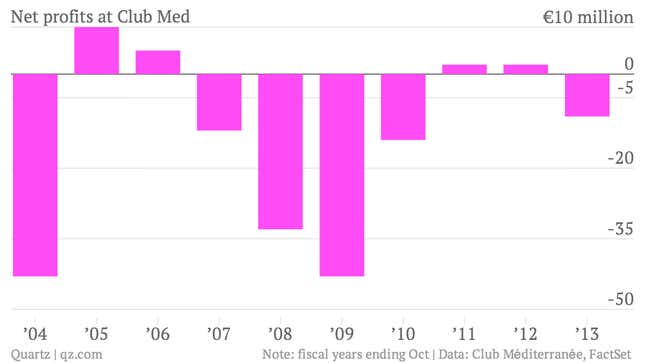 Business in the company's home market in Europe—and France, in particular—is struggling as consumers cut back on holidays or take a do-it-yourself approach to booking trips instead of going to all-inclusive resorts. To add to the company's woes, unrest in Egypt and Tunisia led to closures, both temporary and permanent, of Club Med resorts in these places.
To counteract the decline in its traditional markets, Club Med is pushing far beyond its Mediterranean roots. Only nine of its 66 properties are in Asia, but these are by far its most profitable resorts—Asia accounted for two-thirds of its operating profit in the latest fiscal year, on just over a tenth of group revenue. The company's newest properties outside of Europe are more upscale, part of a shift in strategy to target wealthy holidaymakers from (and in) emerging markets.
Club Med aims for China to become its second-largest market, after France, by 2015. Its third resort in the country, on Dong'ao Island, is due to open next year. Abroad, Chinese travelers are the largest group of customers at Club Med resorts in the Maldives, Mauritius and Phuket, Thailand.
The company itself is also in the process of turning Chinese. A takeover bid by Chinese conglomerate Fosun, alongside AXA Private Equity, was recommended by Club Med management in May. But a group of minority shareholders blocked the acquisition and appealed to a French court, which will judge the merits of Fosun's offer early next year.
The bid places a premium of more than 30% on Club Med's shares immediately before the approach. But this is still a long way from the valuation that Club Med enjoyed during its heyday. Even so, CEO Henri Giscard d'Estaing called the offer a stroke of "good luck" for the firm, giving it the time and resources to plot a more upmarket, less Mediterranean course in hopes of regaining its former glory.