Connected cars promise to make driving easier, safer, and more fun. In the future, say proponents, drivers will be able to navigate with heads-up displays on their windshields, interact with their automobiles without having to mess about with knobs or touchpads, and stream music and download apps directly to the car rather than to an attached device.
But none of that will be possible if the car can't actually connect to the internet. As anyone who has ever driven through a mountainous region or remote stretch will know, it can be hard enough catching a signal strong enough to make a phone call, let alone download a map.
A new report from OpenSignal, a London-based start-up that tracks network strength on its users' phones, shows the scale of the problem, at least in Britain. Motorists zipping along the UK's 68 main highways currently find themselves without any sort of mobile signal from the four big networks roughly 5% of the time, according to OpenSignal.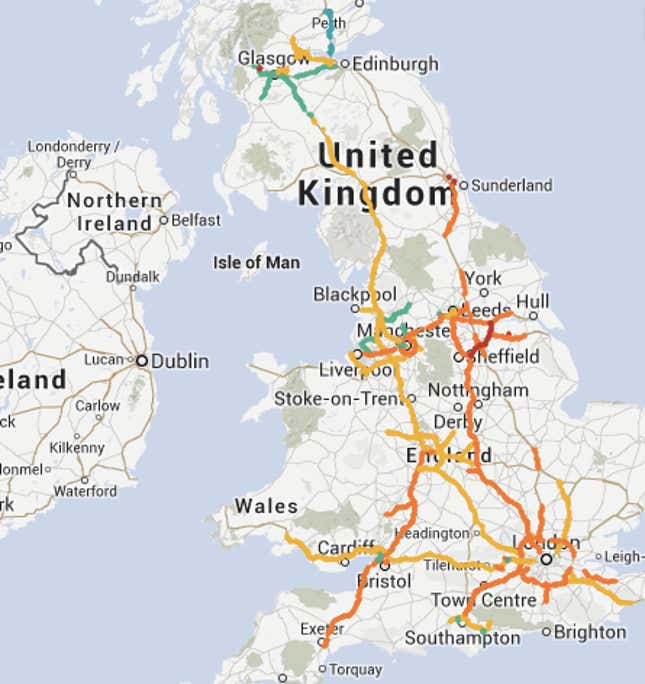 Moreover, drivers can't access 3G services—faster connections necessary for internet-heavy use—for a fourth of the duration. And they are able to use the the faster 4G network, which will become increasingly important as connected cars try to stream entertainment to the kids in the back seat, less than half the time they're on the road. The results are even worse for Britain's network of A and B roads, or smaller highways and thoroughfares. On these roads, motorists cannot access 3G a third of the time (though 4G coverage is comparable to motorways).
Spotty coverage isn't a uniquely British problem. While OpenSignal's report focuses only on the UK, anecdotal evidence suggests that drivers in other countries face similar problems.
As connected cars become increasingly commonplace, convincing mobile operators to pay more attention to roads will become important not just for auto makers but also those companies whose business relies on media downloads and subscriptions. According to the GSMA, a trade body of mobile operators, the lion's share of revenues from connected cars will come not from hardware or telecom, but from services "such as traffic information, call centre support and web-based entertainment."