Tony Palladino, who designed the indelible title of the film Psycho, died last week in Manhattan from complications of pneumonia, the New York Times reports today. He was 84. The title encapsulated the schismatic violence of Alfred Hitchcock's film with a remarkably simple gesture: Palladino tore up the type, ransom-note style.
"That title was so descriptive, I let the title become the graphic," Palladino recalled in the book Alfred Hitchcock and the Making of Psycho. "It was much stronger than any illustration one could do. The guy was quite cracked up, so, in the graphic, I cracked up the lettering to reinforce the title."
Originally designed for the jacket of Robert Bloch's 1959 novel of the same name, Palladino's title was acquired by Alfred Hitchcock for $5,000. "He thought it would be perfect for the ads for this film," Palladino said. "He wanted the lettering to dominate the newspaper and poster advertising, with just a few photographs of the main actors." The broken letters were the template for Saul Bass's influential title sequence and became just as evocative of the film as the famous shot of Janet Leigh's eye.
Although his design for Psycho was his best-known work, Palladino had a long career that included logos, books, advertising, and corporate identities. He sometimes collaborated with his childhood friends Bob Gill and George Lois, two titans of mid-century graphic design. In the late sixties, he turned much of his attention to painting and sculpture, and spent many years teaching at New York's School of Visual Arts. But he had a special gift for morbidly turned graphic design. His darkest works were among his best, such as this Penguin cover for Ed McBain's mystery novel Axe. If Psycho's familiarity has lessened its ability to shock you, try gazing on this nightmarish Palladino cover for Winfred Van Atta's 1961 novel, Shock Treatment.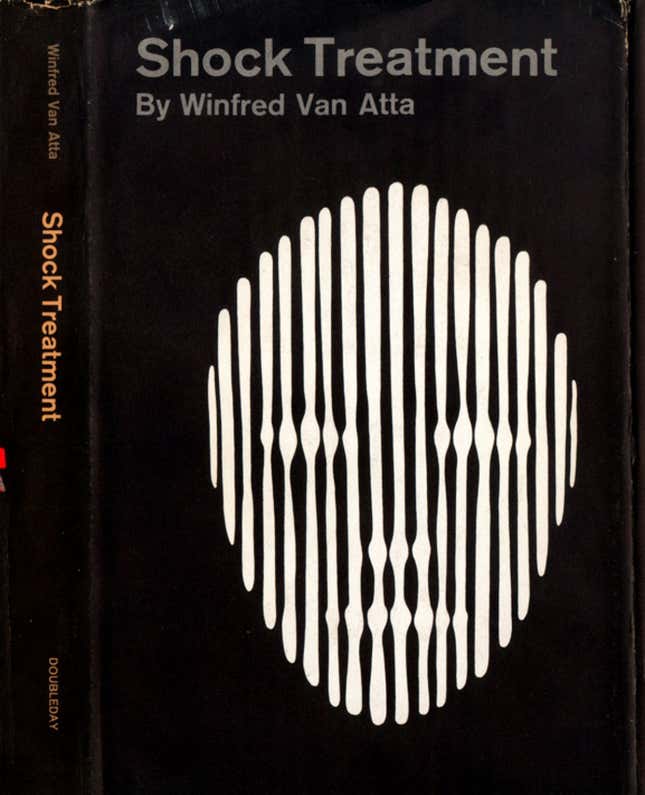 Image via Flickr user Fast-Times