The demographic stranglehold of America's coasts continues to loosen. Between 2000 and 2012, the five states with the highest average annual population growth were Nevada, Utah, Arizona, Texas, and Idaho, all in the South or West. In 2012, 40 of the country's 50 fastest-growing municipalities were in those regions.
Last year, all 15 of the biggest year-on-year gains were in southern and western cities, according to new data from the US Census Bureau.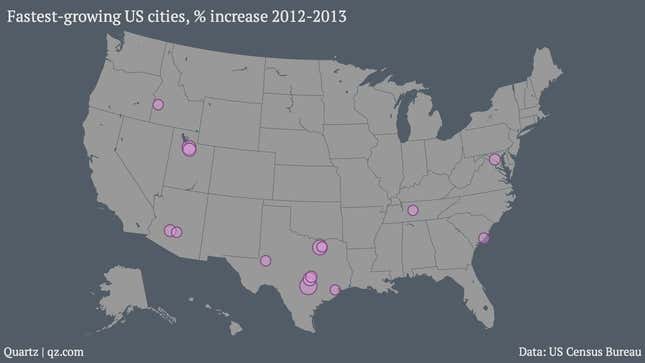 Seven of these growing cities are in Texas, three of which are in the top five.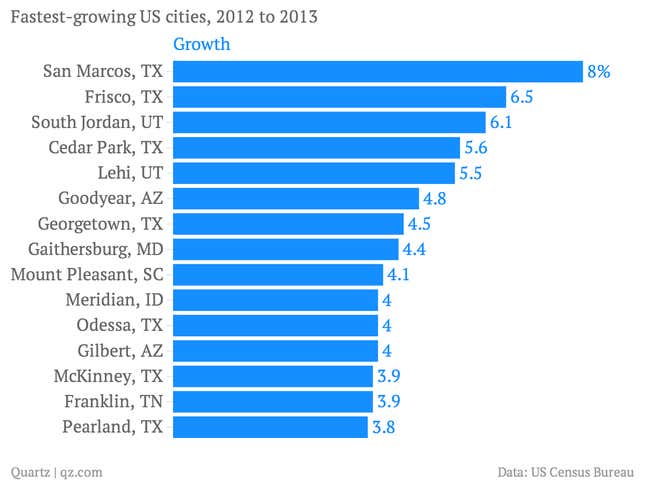 This move away from the coasts is not new. This map produced by the Census Bureau (interactive version here) shows average annual change in statewide population from 2000 to 2012.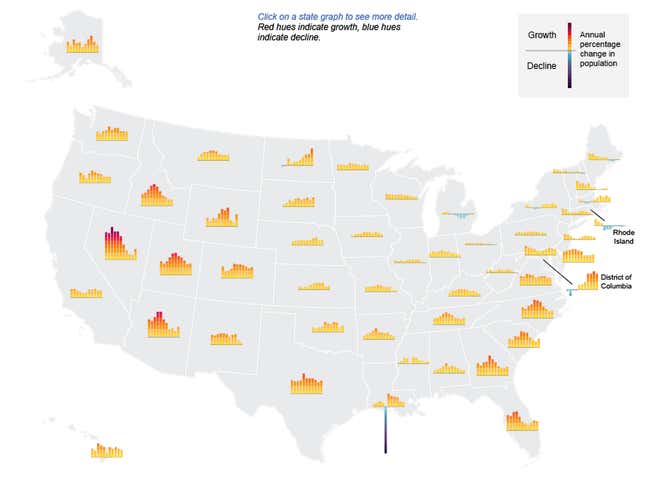 Growth in New York averaged 0.2% per year over that period; California registered 0.3%. Compare that to 2.5% in Nevada, and 2% in Utah and Arizona.
Texas capital Austin is representative of the trend. It saw larger growth than any other metropolitan area from 2010 to 2013. Three of the top 15 cities charted above—San Marcos, Cedar Park, and Georgetown—are Austin suburbs. The city boasts strong job prospects, ranking third in Forbes' Best Big Cities for Jobs 2014. (Another southern town, Raleigh, North Carolina, was fourth.) Northerners moving to Texas can also expect lower taxes and warmer weather.
Austin also shows that not all of this growth is starting from a tiny base. "Fourteen areas passed the 50,000-population mark between 2012 and 2013, including six in the West, four in the South and four in the Midwest," the Census Bureau notes. And seven of the 15 large cities that saw the largest gains in terms of raw population are in the South or West.