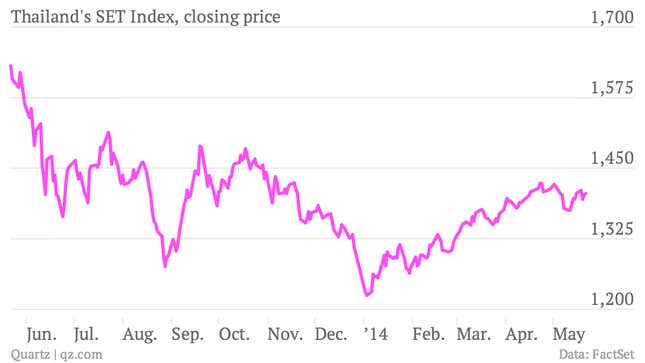 Thailand's twelfth military coup has ushered in a news blackout and a nationwide curfew, but some investors are actually cheering the move, which they say could bring much-needed stability to the divided country, and lift the stock market and currency after months of protests. Seasoned Thai investors have plenty of experience with coups—there has been one every 4.5 years, on average, since 1932.
"We view the current military coup as likely overall positive as it creates a more stable environment," Mark Mobius of Templeton Emerging Markets Group, told Bloomberg. "The prognosis for Thailand is good."
The situation "may appear to be closer to resolution than at any other time in the past seven months," analysts from ANZ bank said.
The Thai stock exchange is open for trading today, less than 24 hours after the coup was declared, and the benchmark SET index was down 1.23% in early trading.
The value of the Thai baht, which weakened slightly in the immediate aftermath of the coup announcement yesterday, was trading up 0.16% against the US dollar as of mid-morning Bangkok time today.
Even if some analysts were bullish on the coup's short-term benefits, many analysts cautioned that the military's intervention was likely to do little to alleviate Thailand's intractable political divide.
The coup "could actually be positive both for Thailand's economy and financial markets in the near term, Capital Economics' Mark Williams said in a note to clients. But he warned:
[T]he coup seems unlikely to bring a lasting solution any closer. After [exiled prime minister] Thaksin was ousted in 2006, the military allowed elections to take place in December 2007. These were won, as every election since 2001 has been, by Thaksin's supporters. Similarly, any return to democracy in the near future would almost certainly hand power back to the same group. In the meantime, the military's seizure of power does nothing for Thailand's reputation among global investors, or indeed tourists.
The Thai baht was the worst-performing currency in Asia this month, according to Bloomberg data, and the benchmark SET stock index has dropped 13.5% in the past year.