The 2013 surge in Chinese real-estate prices might have pinched homebuyers, but it made developer heads the wealthiest executives in China. Among publicly traded Chinese companies, eight out of the 10 best-compensated executives head up real-estate firms, according to a report by Horicon (link in Chinese), a real-estate research firm, and Caixin, counting salary alone.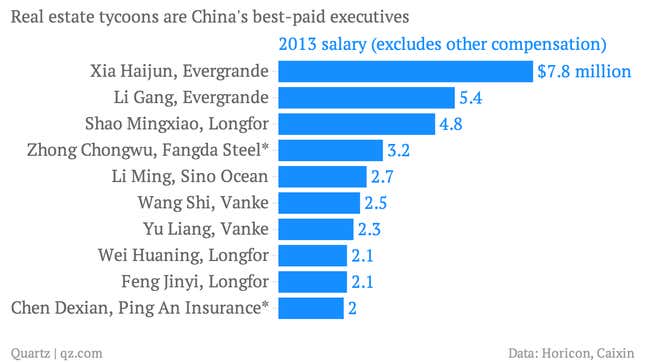 The top dog, Xia Haijun, chairman and CEO of Evergrande, earned a cool 49 million yuan ($7.8 million) in 2013 (pdf, p.151)—nearly 950 times the average worker's 51,900 yuan salary, based on projections from the first three quarters of 2013. But even the average of the 50 highest salaries among real estate executives is still 184 times more than what regular workers earn in a year:

(For comparison, a Bloomberg survey in the US, where growing pay gaps have sparked outrage, found last year that across the S&P 500, the average CEO: worker pay ratio was 204, but that included non-salary compensation.)
The weird thing is that the Chinese government—or its proxies—doesn't seem to want this information out there. Pretty much all of the dozens of articles (link in Chinese) that show up in a search for news about the Horicon report have been zapped from major websites. (There are still a couple of exceptions, including articles in Chinese on local newspaper sites.) In addition, microblog messages about Xia Haijun and other developers' salaries were blocked on Sina Weibo, according to Freeweibo.com, a site that publishes microblog messages that the censors have deleted.
This highlights two big things that the government is freaked out about: housing prices and the income gap.
2013 was clearly a bonanza for Chinese property developers, with prices in China's biggest cities soaring 10-20% throughout the year.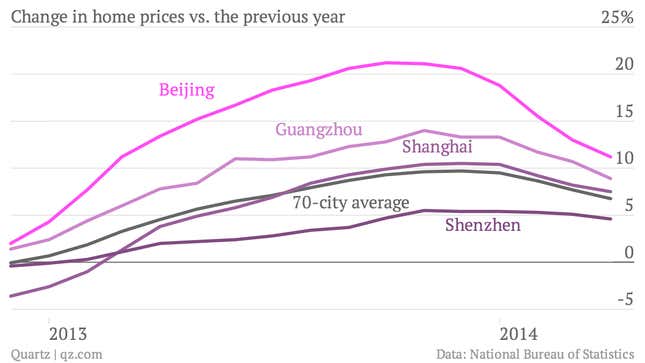 But those surging prices put homes far out of reach of regular Chinese families. The average worker must now save for 13 years to afford a cramped Beijing apartment. Since men are often expected to buy an apartment before his future in-laws will allow their daughter to marry him, prices have been particularly hard on young workers. Home values are now threatening to drop fast. And while that might be good for those who waited to buy, it will leave many middle-class households underwater.
On top of that, their salaries aren't rising like they used to—another gnawing worry for the government. During the boom years of the past, Chinese urban workers saw their incomes rise at a double-digit pace each year. No longer; last year, disposable income for urban households increased more slowly than GDP did. That's frustrating for hard-working families whose incomes are stagnating as a well-connected elite grows ever-richer. And even though a big part of the reason that the real-estate sector has such highly paid execs is that it's dominated by non-state companies, developers still must be well connected to local governments to thrive.