Goldman Sachs is trying not to let a slowdown in its trading business get it down. That's essentially the message Goldman president and chief operating officer Gary Cohn conveyed during a presentation to analysts today. Cohn outlined the firm's plans to try to combat a market in which some of its bread-and-butter businesses—notably fixed-income, currencies, and commodities (FICC)—are facing major headwinds. "To be successful you must continually adapt your strategy," Cohn said, noting that Goldman has been cutting costs, including shrinking pay to historically low levels, and trying to dial down its overall risk-taking. Cohn's bottom line message centered on Goldman's ability to be able to pivot quickly from growth in one area to scaling back, all depending on the needs of its clients and the vagaries of the markets. Here's a look at the presentation in which the bank talks about some of its options for squeezing the most out of its business: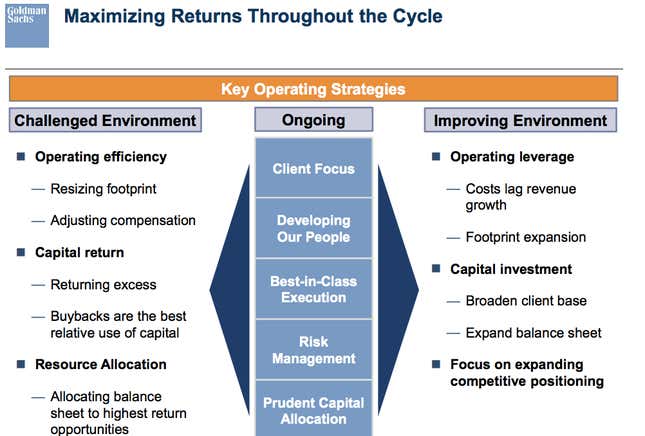 Cohn's comments appear to echo those made earlier this month by CEO Lloyd Blankfein at the firm's annual shareholder meeting. In plainspoken terms, Goldman has been cutting back—but not completely deserting—lagging businesses, such as FICC. It has reduced its FICC headcount by 10% since 2010, Cohn noted in his presentation. Indeed, trading continues to be a major challenge for the vast majority of banks. A key component of the capital markets business at large Wall Street banks, trading is an especially important for Goldman, where capital markets activity accounts for a large share of the bank's overall revenues.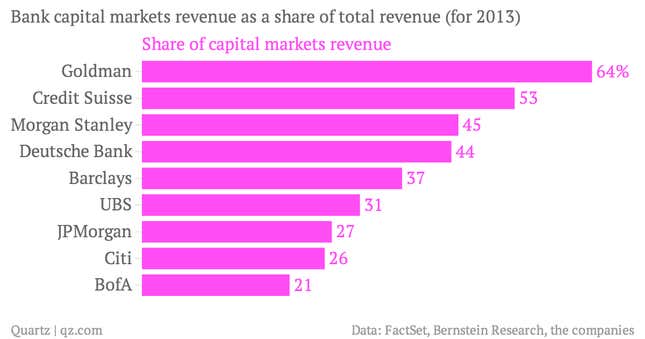 Driving weak revenues in trading is paltry activity, which has translated into fixed-income volumes 45% lower than a year ago, Cohn noted. He added that trading volumes in areas like mortgage-backed securities and corporate bonds were down 20% and 15%, respectively. Cohn's comments come less than 24 hours after Citigroup said it is forecasting upcoming second-quarter trading revenues to fall by as much as 25%. Although Cohn didn't make any specific predictions for where he thought trading revenues would be at Goldman, he didn't offer a rosy outlook.
"We don't know when the environment is going to change, we need to be prepared for the environment to change, we need to be prepared for it to get worse," he noted.
On the bright side, the bank is seeing strength in mergers and acquisitions and is bullish on global growth. Here's where Goldman is looking for opportunities, including those among a generation of retiring baby boomers, who the firm expects to help boost its wealth management business.