Is it time to panic yet? The trading business on Wall Street is continuing to get walloped. Indeed, Citigroup chief financial officer John Gerspach just told attendees at a conference that the bank's second-quarter revenues from trading stocks and bonds may plummet by as much as 25%, compared to the same quarter last year.
Why? Pretty simple really. Markets have been calm lately. (Low volatility.) And, as a result, there hasn't been a lot of trading activity. (Low volume.) As a result, banks trading revenues are likewise, low.
"Historically low volatility, an uncertain global macro environment and geopolitical events have all combined to drive volumes lower," Gerspach told conference attendees.
Bear in mind, a rotten second quarter for trading would follow a pretty ugly first quarter for the business. In the case of Citi, first-quarter trading results were down about 12% year-over-year back in April. Other firms like JPMorgan produced even more unsightly quarterly results in trading. Heres's what Citi's second-quarter trading results may look-like–excluding funky accounting adjustments for changing value of its debt–if they register the 25% year-over-year drop of which Gerspach warned.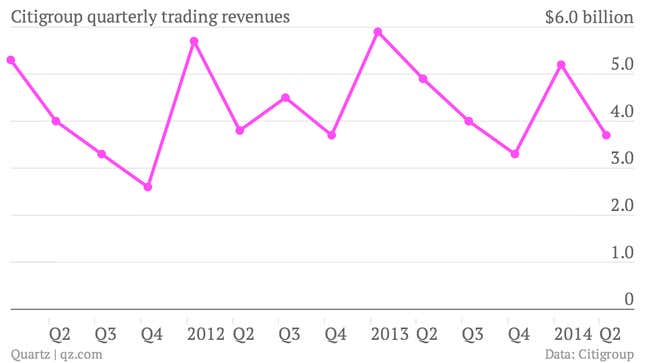 What's not clear is exactly what's driving the downturn in volatility and trading activity. For his part, Gerspach had a simple explanation: Nobody knows what to do. "In order to create some level of volatility  there needs to be people on both sides of a view. Right now I don't think people even know what view to be on either side of," Gerspach said, adding, "It's just a market that is becalmed."