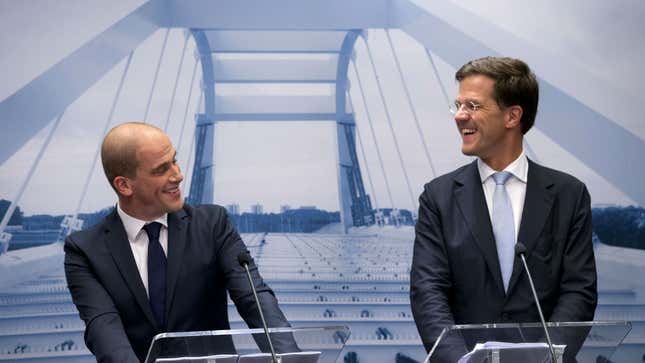 The Dutch have been extremely busy. Yesterday, the Labour and Liberal parties announced a new coalition government—47 days after the September elections—budget cuts and tax hikes of €16 billion ($20.6 billion), and a new government theme: Building Bridges.
Before a backdrop of a newly-built suspension bridge, Mark Rutte, head of the center-right Liberal party, and Diederik Samsom, the Labour leader, announced a new government strategy based on "three pillars" including sorting government finances, equal sharing, and working toward sustainable growth. "'We realize this package will hit everyone," Rutte said of the latest austerity plans, "but we also realize it is important to make our beautiful country stronger."
Rutte will take a second term in office as prime minister, while two key cabinet positions, head of finance and foreign affairs, will go to center-left Labour party members. The new centrist government is a departure from the past two years during which Rutte's Liberal party was backed by a far-right anti-Europe party led by Geert Wilders. This is bad news for Dutch euro-skeptics.
The 47 days it took to create a new coalition government is considered speedy for the Netherlands. It involved tough concessions including an agreement by Liberals to limit a Dutch tax deduction for mortgage interest, which has distorted the housing market. For their part, Labor agreed to a cut unemployment insurance eligibility to one year from three, and to reduce the top marginal tax rate to 49% from 52%.