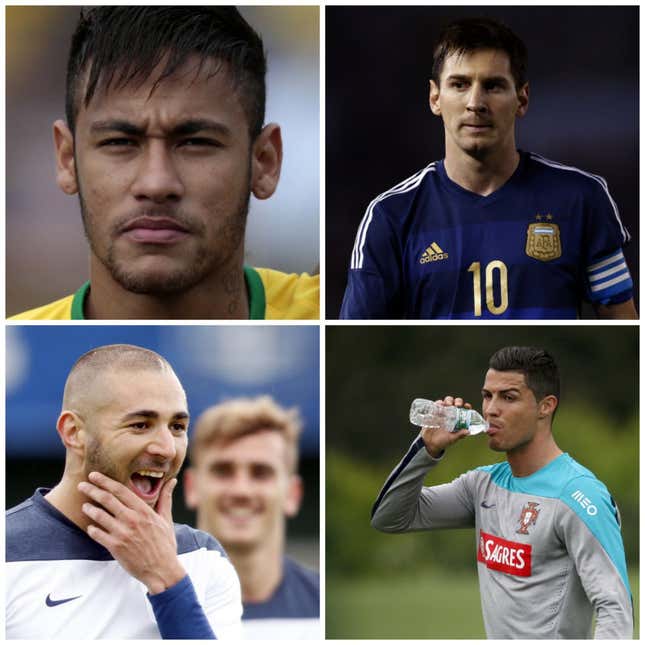 Pele, Maradona, Zidane. Some of the greatest names in soccer cemented their place in history on the biggest stage in the sport, the World Cup. So, who will be the star of this year's tournament?
Cristiano Ronaldo, an attacking midfielder for Real Madrid and Portugal, is the world's most marketable soccer star, according to a recent analysis by sports marketing firm Repucom (cited by Morgan Stanley in a note this week), which measures the perceptions of thousands of consumers about famous people. Lionel Messi, a forward for Barcelona and Argentina, is in second place. Those two players are generally regarded as the world's best, but arguably neither has truly excelled at a World Cup. Ronaldo, who is currently battling injury, made the semi-finals with Portugal in 2006; Messi hasn't progressed beyond the quarter-finals with Argentina.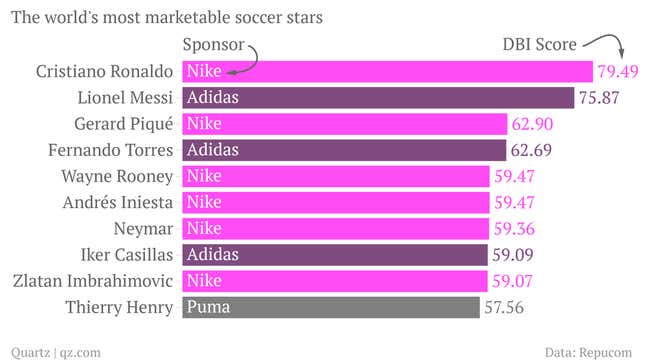 We've already mentioned Brazil's Neymar asa potential icon from the tournament. The rest of the above list doesn't give many clues: Fernando Torres, for example, has played infrequently for his club, Chelsea, this season, and is unlikely to feature prominently for Spain at the World Cup, although his team mate, Andres Iniesta, who scored the winning goal four years ago, probably will. Zlatan Ibrahimovic, won't feature at all during the tournament, as Sweden did not qualify. Thierry Henry plays for the New York Red Bulls, and will be at the World Cup, only covering it as a pundit for the UK's BBC TV network, rather than as a member of France's squad.
Most tournaments feature breakout stars, often unexpectedly. Not many people would have tipped Uruguayan Diego Forlan to be named best player in 2010 before the tournament began, or Germany's Thomas Müller to be top scorer.
Top scorers sometimes, but not always, become the enduring face of a World Cup. Dan Altman, an NYU economics professor who runs a sports analysis firm, North Yard Analytics, says there are three potential factors too look out for in potential top scorers at World Cups: having the talent to score, playing lots of matches, and facing weak opposition.
"We should be looking at established strikers who are facing flimsy defenses and whose teams are likely to advance in the tournament," he says via email. "We should also be looking at strikers who tend to finish their teams' moves; teams with several striking options are likely to spread the wealth." Two players that could fit into that category are France's Karim Benzema and Olivier Giroud, he says. (France has been drawn in arguably the easiest group.)
It's also worth noting that Nike is sponsoring more of the most marketable stars at this year's World Cup than Adidas, despite the latter being an official sponsor of the tournament. Six of the ten most marketable players are sponsored by Nike, compared to three for Adidas. The two shoe giants are battling fiercely to get the most benefit from the world's biggest sporting event.