With his starring role on Brazil's World Cup soccer team and over 10 million Twitter followers, Neymar da Silva Santos Júnior—better known simply as Neymar—is no stranger to the spotlight. An upcoming cover story of the Wall Street Journal's WSJ magazine helps to solidify Neymar's status as an international sex symbol with a series of photos featuring the 22-year old athlete employing a smoldering gaze, a boyish smirk, and a Prada suit.  
The story also notes Neymar's "head of fantastic, malleable hair," a detail that Brazilian kids have been onto for years now, as exhibited by a rash of miniature Neymar-inspired "mullet-hawks."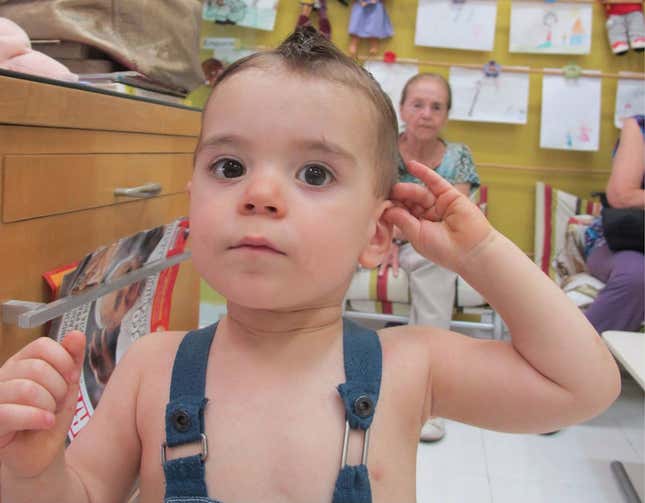 Lina Cruz, who has owned Chuca Chuca, a kids' salon in the Leblon neighborhood of Rio de Janeiro, for 33 years, tells Quartz the trend started a few years ago with Neymar's oft-imitated mohawk, and has now evolved to a subtler faux-hawk style that's short on the sides with long bangs in front. "Yesterday we did two cuts like that," said Cruz. "The mom asked for one, the kid asked for the other—a nine-year old." At Asa Delta, another Rio kids' salon, Margareth Caeiro estimated that about one hundred kids per month request a cut similar to Neymar's.
The last sports-inspired haircut to sweep the nation's youth with such fervor was Ronaldo's questionable forehead patch, which the striker wore when Brazil won the World Cup in 2002. "That cut was horrifying," Caeiro recalls.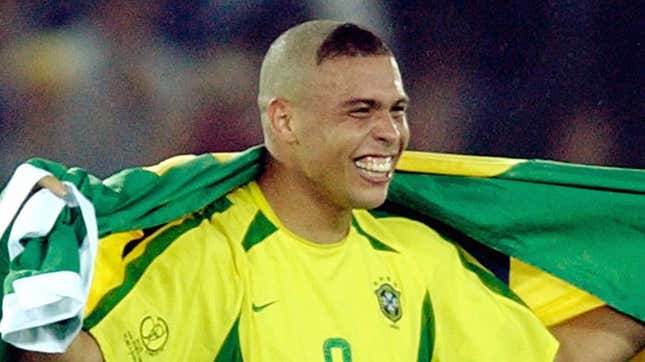 The soccer star is certainly not the first celebrity to sport a version of the "fauxhawk," but as Neymar mania sweeps the world in advance of this summer's World Cup in Brazil, his distinctive hairstyle may gain ground among kids (and adults) around the world: tutorials on how to achieve it are already proliferating online.
Would-be Neymars may want to wait, however, before they commit. With the World Cup just one month away, the player recently told the press he's "considering a new look." (Portuguese) As of last week, he was still pondering the change, and was apparently feeling inspired by Ronaldo. Brace yourselves.