The US third-quarter corporate earnings season isn't even over, and analysts are already downbeat about how companies have performed. Oddly enough, 71% of the 245 companies that had released their quarterly earnings reports by the end of last week reported better-than-expected earnings per share, according to data compiled by Factset. That's more or less in line with how they generally perform—in the last four quarters an average of 70% of companies have reported earnings higher than expectations.
Yet despite these companies' profitability, they aren't seeing the kind of demand that investors were hoping for. Only 36% of those firms are beating sales estimates, down from an average of 56%. "If 36% is the final percentage, it will tie the Q1 2009 quarter (36%) as the quarter with the lowest percentage of companies reporting sales above estimates in the past four years," Factset analysts wrote in their latest report.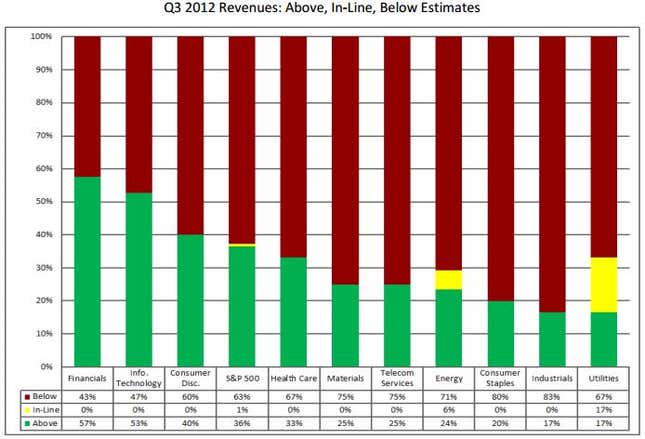 These earnings reports suggests that analysts may need to reevaluate the strength in the US economy. Comments from investment banks and economic indicators have pointed to renewed strength in the housing market. But consumers and businesses may be starting to cut back on spending.
That influences how companies operate; while they may be profitable, they could be forced to cut production if they aren't able to sell their goods. Looking forward, companies have scaled back predictions for the rest of the 2012 year, adjusting behavior to respond to increasingly sluggish results. In conference calls following quarterly earnings reports, numerous corporate executives have said that businesses have been unwilling to make decisions that could be influenced by the US election next week or the slew of spending cuts and tax increases that could hit early next year as part of the "fiscal cliff." Others mentioned that declining demand in Europe and the slowdown in China could be contributing to poor results.
Whatever their motives, these are worrying signs that the growth we've seen in the US economy remains fragile.
Read on about how America's GDP growth is due to government spending and the housing market, but not businesses.