The last few months have seen sci-fi thinking applied to the most pedestrian of designs: pavement. To replace streetlights, the Netherlands is testing glow-in-the-dark highways painted with a "photo-luminizing" powder that charges during the day and glows a Tron-like green at night (though apparently not in the rain). Meanwhile, an Idaho couple has raised over $2 million on Indiegogo for their almost certainly quixotic dream to turn every blacktop in America into a giant solar cell.
As long as we're thinking about impractical, expensive, but incredibly appealing ideas, consider this: a highway with smart surfaces that act as an interactive display, updating drivers on traffic ahead, alerting them to sudden hazards, and instantly changing road signs. That's a new proposal from Art. Lebedev Studio, a Russian design firm known for its clever conceptualizing.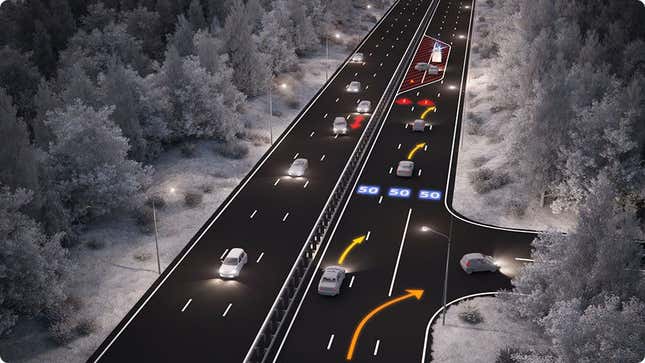 Before you start reaching for your wallet, keep in mind that Art. Lebedev is part design studio, part skunkworks. It does not build roads, and it offers few details and no proof of concept here. It's just an intriguing idea. But the firm did manage to produce a very real OLED keyboard, yours for a mere $1,500, whose keys will display any symbols you want. And with just a few tens of billions of dollars in crowdfunding, an interactive highway could be a reality too. Or we could just spend the money on public transportation.
As this short video shows, the system has sensors in the road that alert you to obstacles ahead . . .
. . . and dangers just out of sight: