The numbers: Dismal. Lululemon Athletica's profits plummeted 60% to $19 million (paywall), and sales growth has slowed dramatically over the last year. The high-end yoga and athletic-wear company reported 11% growth in net sales over last year's first quarter, reaching $384.6 million in the first quarter of this year.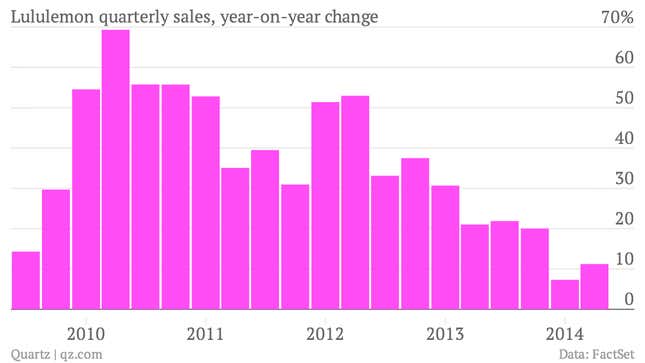 no-caption
The takeaway: A one-time tax charge (for a cash repatriation plan to fund a $450-million buyback in common shares) took a $31-million bite out of Lululemon's bottom line. Sluggish sales didn't help matters. Comparable store sales—a common measure for retailers—grew just 1 percent.
After suffering a handful of recent PR disasters, Lululemon is in dire need of a turnaround. First there were the defective, see-through yoga pants, which forced the company into an embarrassing and expensive recall and also caused the departure of its very successful CEO, Christine Day. Then, founder Chip Wilson had to step down as chairman, after alienating customers when he blamed the problem with the yoga pants on women's thighs.
And just yesterday, Wilson announced that he attempted to oust his replacement, Michael Casey, and director RoAnn Costin, when he voted against their re-election to Lululemon's board. The move failed, but Wilson succeeded in further undermining the leadership of the company he started.
What's interesting: Lululemon's form-fitting yoga pants for women have made the company famous (and rich). Now it's going after the men's market, which made up about 13% of its business in the first quarter. "In Q1, our big focus was on really landing our men's set," said chief product officer Tara Ruth Barber Poseley on an earnings call, adding that the team was concentrating on sweats. "We're really pleased with the men's business."
Because really, why should soft dressing be limited to the ladies?