Lululemon shares are taking a beating—down 13%—after the company announced CEO Christine Day is leaving the firm.
Day's departure does smack of ignominy, as it follows the comedic recall of black Lululemon stretch pants, known as Wunder Unders, which left far too little for people to wonder about. To Day's credit, she took responsibility for the flap, and the pants returned to stores with less transparency this month.
But if a company's stock price is a CEO's report card, Day had a pretty unbelievable run at the helm of the Vancouver based retailer. Since she was tapped as CEO on April 2, 2008, the stock is up more than 400%. Over the same period, the S&P 500 stock index is up a mere 21%.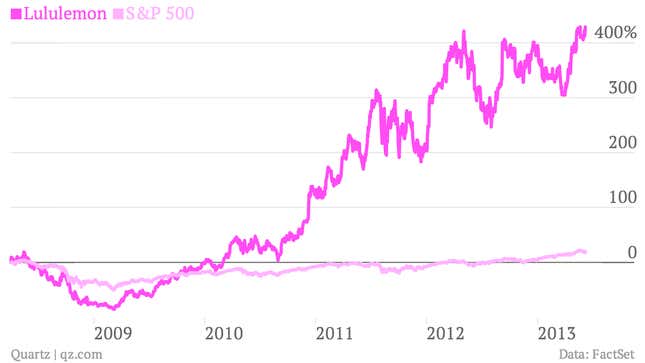 Day, who will stay on until a successor is named, is credited with growing the brand internationally, and developed the strategy of purposely keeping less inventory to boost demand. That made Lululemon's pricey products a must-have among trendy types.
But lately, even without the sheer disaster of the yoga pants recall, the company was facing increasing competition from cheaper competitors, like Gap's Athleta brand. That's why Day's leadership is even more critical now, but Lululemon will have to figure out a way to do the downward dog without her.
Day's departure comes even with Lululemon reporting better than expected earnings, with net revenues up by 21% in the first quarter to $345.8 million. Lululemon will also delist from the Toronto Stock Exchange because the low trading volume there didn't justify the administrative expenses related to its listing. The company will continue to trade on the Nasdaq.