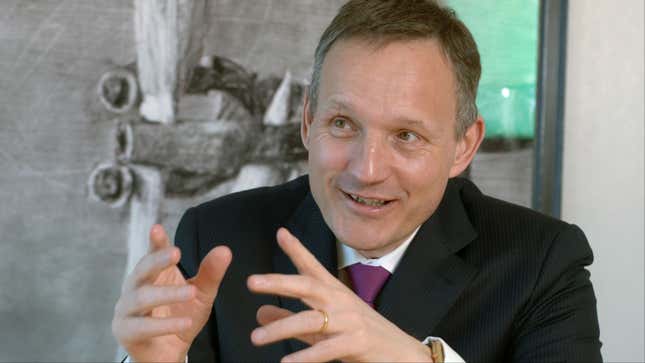 Antony Jenkins, Barclays' new chief executive, greeted investors on Halloween day with news of pre-tax losses of £47 million for the third quarter and a warning that the UK bank faces two new US regulatory probes.
In his first time delivering results since replacing Bob Diamond following the LIBOR rate-fixing scandal, Jenkins announced a 29% rise in third-quarter pretax profits to £1.73 billion ($2.78 billion). This figure met forecasts and sounds good, but strips out a £700 million charge to reimburse clients over faulty payment protection insurance and a £1.1 billion charge on the rising value of its own debt. Including these factors, Barclays had a pre-tax loss of £47 million for the quarter, a big come-down from its profit of £2.42 billion a year earlier.
In other news, Jenkins said the bank faced two fresh regulatory investigations. The US Federal Energy Regulatory Commission is looking into past power trading activity between 2006 and 2008 in the western US, while the US Department of Justice and the US Securities and Exchange Commission is examining whether relationships with third parties who help Barclays win and keep business have breached corruption rules.
It hasn't been a great week, make that year, for Barclays. Earlier this week a judge in London gave the green light for a UK nursing home group to proceed with a lawsuit against Barclays alleging "false and fraudulent representation" (paywall) of financial products it bought that were tied to the LIBOR rate. Barclays has already paid £290 million to US and UK regulators for manipulating LIBOR, the London interbank lending rate tied to more than $300 trillion of mortgages, loans other financial products.