Parents of pre-teens won't be surprised to hear that the rubber band seems to be behind a bounce in sales for America's largest arts-and-crafts retailer.
Michael's has filed new plans to offer shares publicly. The chain crafts store had been purchased by the private equity giants Bain and Blackstone in 2006 for roughly $6 billion. (The company originally planned a 2012 offering, which was scrapped after the then-CEO suffered a stroke.) At any rate, same-store sales growth at the company has picked up a bit over the last couple years, which looks to be a good sign of momentum in the business. Last fiscal year, same-store sales rose 2.9%, the best since 2011. And in the most recent quarter, same-store sales were up 3.8%.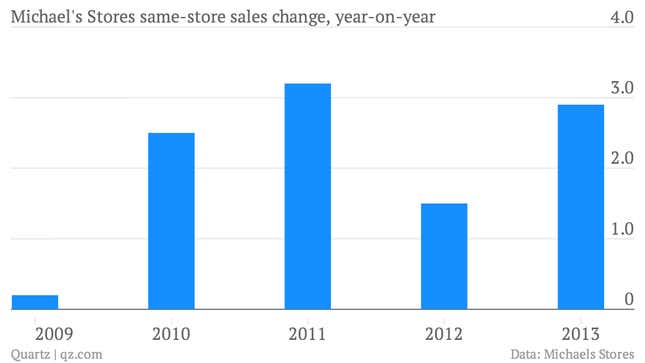 But embedded in the data, there's the risk of a snap-back: Rubber bands. Sales of rubber bands, tied to a craze for the kids-bracelet-making machine known as the Rainbow Loom, have been the key driver of sales over the last year, Michael's told investors in its prospectus. The company said same-store sales growth "was strongest in our children's crafts categories, due primarily to sales of the Rainbow Loom and replacement rubber bands."
The prospectus said:
Our recent results of operations have been significantly enhanced by sales of one product, the Rainbow Loom. Sales of the Rainbow Loom and replacement rubber bands were the primary driver of the increase in our net sales in the fiscal year ended February 1, 2014 compared to the prior fiscal year. Based on our retail experience, we expect that the popularity of this product will diminish over time, and our results of operations could be affected by our inability to anticipate demand for this product and stock the appropriate level of inventory. Similarly, if we identify products in the future that have a significant effect on our results of operations, we could face similar challenges and risks that could affect our profitability.