It's now worth more than $1.5 billion.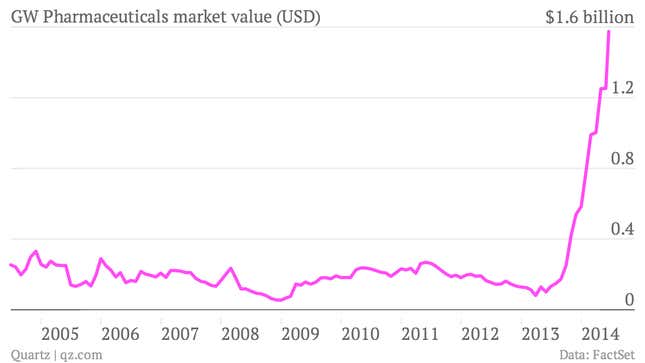 Shares in GW Pharmaceuticals, a very modern business based in the ancient English city of Salisbury, have soared by 15% today. Why? Further signs the company's cannabinoid-based treatment for epilepsy might actually work.
The company announced this morning that a trial of its epilepsy treatment, Epidiolex, involving 27 children with severe epilepsy had shown "promising signs of efficacy," reducing the frequency of seizures by more than 50%. A "portion" of patients were free of seizures altogether after 12 weeks of treatment, it said, not revealing how many. Earlier this month, the company announced a trial (paywall) with New York state for its epilepsy treatment.
Investors have been piling into shares of GW over the past 12 months (the stock is up nearly 1,000%), on the belief that it is well positioned to benefit from the full legalization of marijuana in the US for medicinal use. Even though many US states permit the use of medicinal marijuana, the US Food and Drug Administration (FDA) hasn't approved it.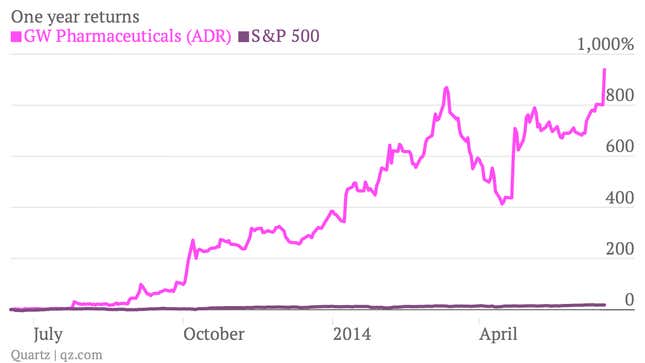 GW's main product, Sativex, a spray used to treat multiple sclerosis, is already in use in number of European countries, and in the US, is in the final phase of regulatory testing by the FDA.  But the positive results for Epidiolex raise the tantalizing prospect that GW may eventually have several viable products.
GW's marijuana-growing facility, according to the company, produces about 200 tonnes (220 tons) of raw material and about 20 tonnes of actual pot each year. (The facility's location is highly secret and is heavily guarded.) From these plants, the key components of GW's cannabinoid products are carefully extracted.
GW's success this year is in contrast with various other marijuana-related businesses, which have struggled amid warnings from US financial regulators that they might be lying about their numbers. GW, at least, seems to evince no such doubts.