This October is the 20th birthday of Comic Sans, perhaps the most hated typeface in the world. Rather than celebrating, many people will mark the anniversary by wishing that the childish-yet-ubiquitous font would just go away.
But a trio of British designers is leveraging the passion that Comic Sans arouses for a good cause. They've launched Comic Sans for Cancer, an exhibition of posters inspired by the typeface, and are donating the proceeds to the British charity Cancer Research UK.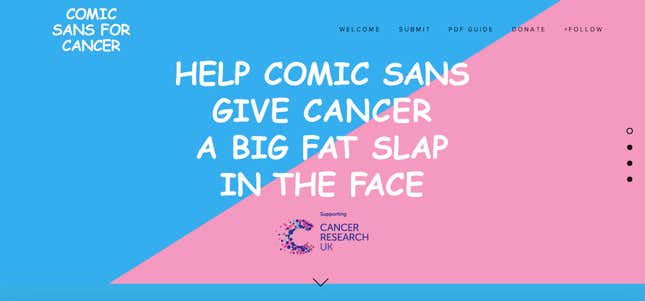 The campaign asks designers to submit a typographic poster in response to Comic Sans. Paeans and philippics are equally welcome. "As designers, we despise Comic Sans and that's the fun of it; to use something that's perceived as being a little bit unloved for good," the campaign's organizers explain.
The posters will be shown online, and the best of them will appear in an exhibition in London next month. The organizers estimate that the show will raise over £2,000 ($3,388) through poster sales and donations. So far, 250 designers have donated work. Submissions close on June 20; the full guidelines can be found here (pdf).