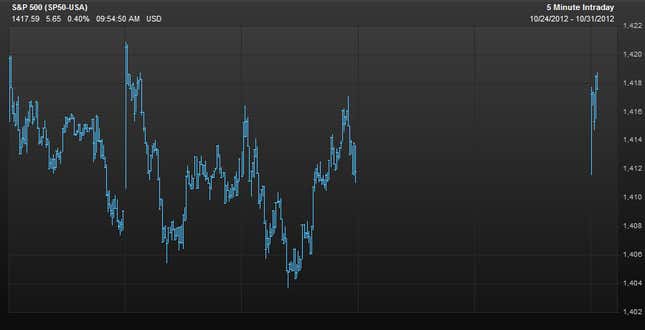 US stock markets opened again after their two-day storm-related hiatus in a quiet and apparently smooth manner. In early trading, US shares were flat to higher on relatively modest volume. Over at WSJ.com's MarketBeat, they're offering up a tick-by-tick account of the start of equity trading. And no, there was never any water on the floor of the stock exchange.
Of particular note is weakness in shares of tech behemoth Apple, which announced a management shuffle during the midst of the Sandy upheaval. The stock is down 2.4% a bit more than an hour after the open of the markets. Here's a look: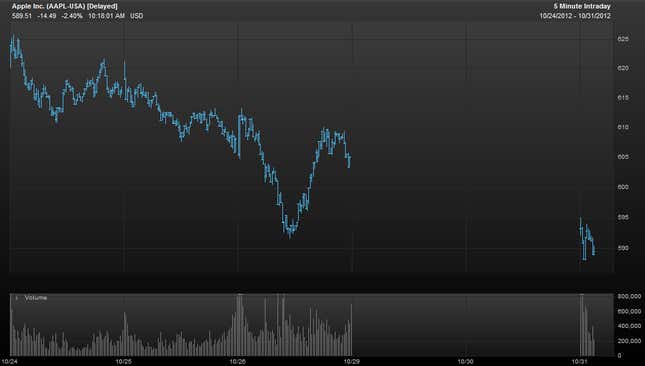 The weakness of Apple is weighing on the tech-heavy Nasdaq composite, where the Cupertino giant exerts huge gravitational pull.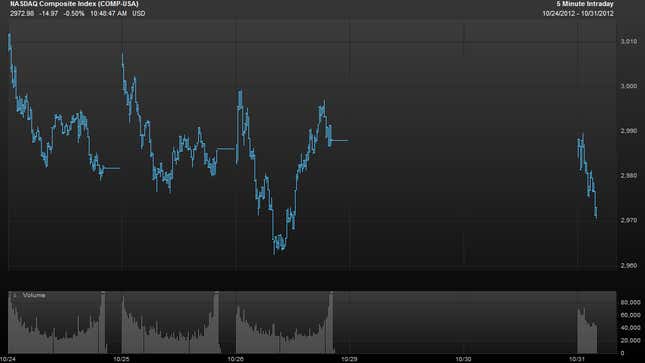 Meanwhile, there are plenty of short-term storm recovery plays being made in the wake of Sandy. The industrials sector is moving higher, lead by Quanta Services. The Houston, Texas based utility and electrical services company reported really good earnings and it's a huge potential beneficiary from spending on reconstruction after the storm. Here's a look at the chart. Check out the huge volume as people pile into the shares. (That's the light grey horizontal bar at the bottom.)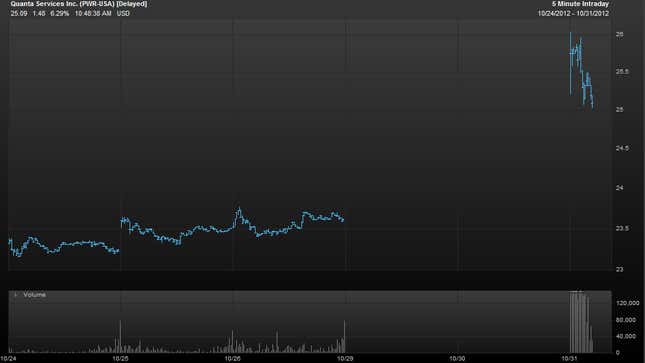 "Over the past week we have deployed significant resources to nine states and the District of Columbia for eight utility customers to restore electrical infrastructure damaged by Hurricane Sandy," Quanta executives told analysts on their post earnings conference call. "A storm like Sandy will obviously generate emergency restoration revenues for Quanta."
On the other hand, Quanta executives noted that there are potential negative impacts for the company from Sandy, such as disruptions and costs associated with its natural gas pipeline construction projects. So they stressed that it's too early to say how Sandy will effect their fourth quarter financial performance. Be warned, momentum traders.